The Event/Stimulus

ExecutionEvent is used to show the change in state of an object caused by the respective event or stimulus. The received events are annotated to show the event causing the change in condition or state.
To insert an Event/Stimulus:
1.Click the Event/Stimulus icon, then click the specific position in the timeline where the state change takes place.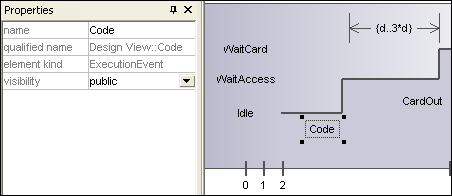 2.Enter a name for the event, in this example the event is "Code".
Note that the event properties are visible in the Properties tab.