This example shows you how to generate a Sequence diagram from a method. The project containing this method will be reverse-engineered from Java source code. You can find the Java source code at the following path: C:\Users\<user>\Documents\Altova\UModel2022\UModelExamples\OrgChart.zip. First, unzip the OrgChart.zip archive to the same location (for example, right-click the archive in Windows Explorer and select Extract All).
1.On the Project menu, click Import Source Directory, and select the directory unzipped previously.
2.Go through the wizard steps to import the source code as a Java project. For more information about this step, see Reverse Engineering (from Code to Model).
3.Having imported the code, right-click the main method of the OrgChartTest class in the Model Tree and select Generate Sequence Diagram from Code... from the context menu.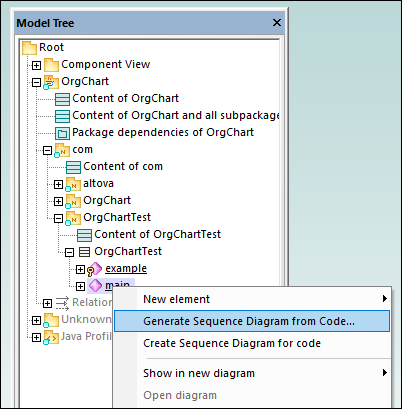 This opens the Sequence Diagram Generation dialog box in which you define the generation settings.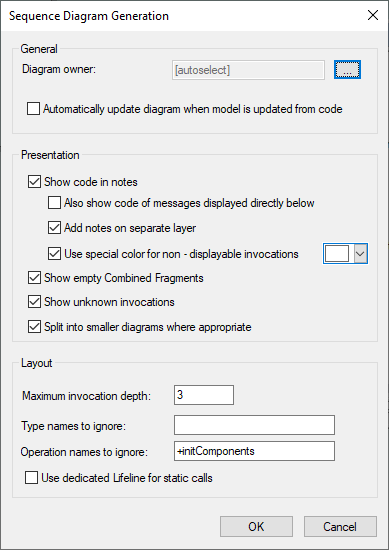 4.Select the presentation and layout options, and then click OK to generate the diagram. The settings shown above produce the sequence diagram below.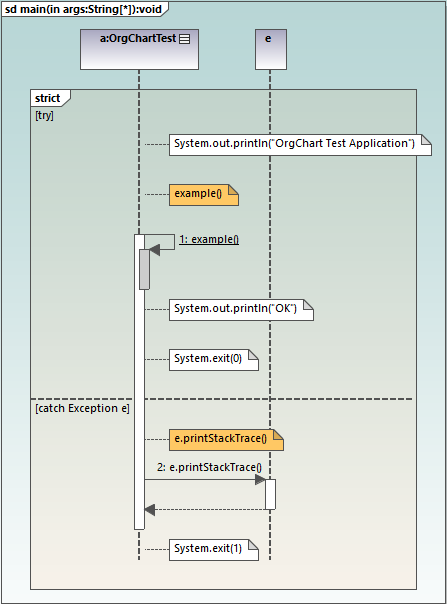 Sequence diagram generation options
The table below lists the generation options pertaining to Sequence diagrams.