This command checks out the latest version of the selected files and places writable copies in the working directory. The files are flagged as "checked out" for all other users.
To Check Out files:
•Select the file or folder you want to check out in the Model Tree.
•Select Project | Source Control | Check Out.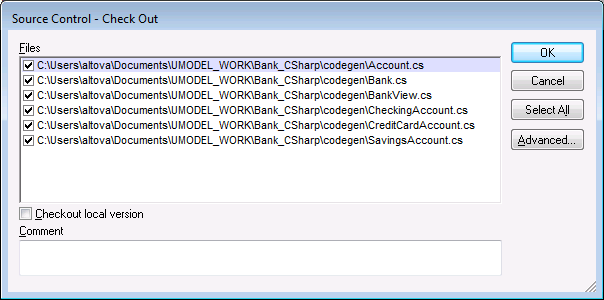 | | |
| --- | --- |
| Note: | You can change the number of files to check out, by activating the individual check boxes in the Files list box. |
Select the option Checkout local version to check out only the local versions of the files, not those from the source control database.
The following items can be checked out:
•Single files, click on the respective files (CTRL + click, in the Model Tree)
•Folders, click on the folders (CTRL + click, in the Model Tree)

or

The red check mark denotes that the file/folder has been checked out.
Advanced
Allows you to define the Replace writable and Set timestamp options in the respective combo boxes.

The "Make writable" check box removes the read-only attribute of the retrieved files.