The Hierarchy window displays all relations of the currently selected modeling item, in two different views. The modeling element can be selected in a diagram, in the Model Tree window, or in the Favorites window.
Items in the Hierarchy window can be displayed in two views:
•Tree view
•Graph view
To switch between views, click the Show tree view

or Show graph view

buttons in the upper-left corner of the window.
The tree view shows multiple relations of the currently selected element, as a tree. Click the buttons at the top of the window to select types of relations that are to be shown. In the image below, only generalizations

and associations

are selected to be shown.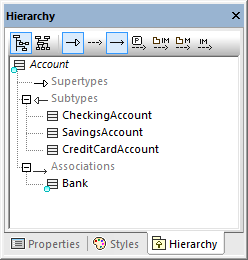 Hierarchy window (tree view)
The graph view shows a single set of relations in a hierarchical overview, as a diagram. In this view, only one of the relation buttons can be active at any one time. In the image below, the Show Generalizations

button is currently active.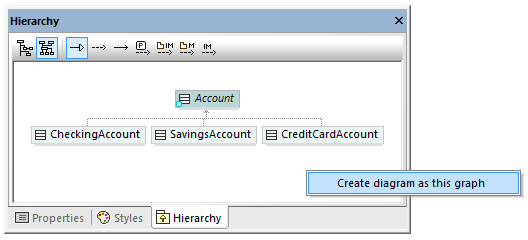 Hierarchy window (graph view)
In the graph view, you can generate diagrams that include the elements visible in the window. To do this, right-click inside the window, and select Create diagram as this graph from the context menu.
Settings pertaining to Hierarchy window can be changed using the menu option Tools | Options | View, in the Hierarchy group in the lower section of the dialog box.
The Hierarchy window is navigable: double-click one of the element icons, inside the window, to display the relations of that element. This applies both in the tree view and in the graph view.