Converts a string into a decimal number, according to specified format.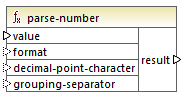 Languages
Built-in, C++, C#, Java.
Parameters
Example
The following mapping parses the string value "1,234.50" to a decimal equivalent, by using the format mask #,##0.00. In this mapping , there is no need to connect the decimal-point-character and grouping-separator arguments, since their default values match the format of the input string.

The mapping result is as follows (excluding the XML and namespace declarations):
<Article>
<Number>1</Number>
<Name>Office chair</Name>
<SinglePrice>1234.5</SinglePrice>
</Article>