In addition to creating standalone mappings, you can also create mapping projects that include multiple mappings. Mappings added to a project are accessible from the Project window (see screenshot below).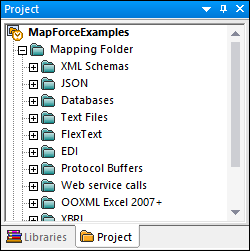 The main advantage of projects is that you can define common code generation settings (e.g., the target language and the output directory) for all the mappings included in that particular project. You can also create folders inside projects and specify custom code generation settings for each individual folder in a project. MapForce Project files are saved with the .mfp extension.
In MapForce Enterprise Edition, you can additionally create Web Service projects. Such projects enable you to generate Java or C# program code that implements SOAP Web services, based on existing WSDL (Web Services Description Language) files.
This section explains how to work with MapForce projects and is organized into the following topics: