The Results tab of the DB Query pane shows the recordset retrieved as a result of a database query (screenshot below).

Toolbar buttons for navigation
At the top of the Results tab, there are two toolbar buttons that enable you to navigate the query results. The

(Find) toolbar button allows you to run a search in the retrieved results. When you press this button, the Find dialog pops up (screenshot below). This dialog box allows you to configure various search parameters (e.g., match the whole word). Use the Find next and Find prev buttons to switch between the occurrences of the search term.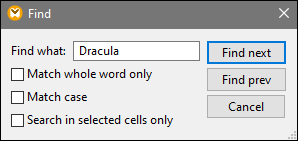 The

(Go to statement) toolbar command jumps to the SQL Editor and highlights the SQL statement that produced the current result. This might be particularly useful when the SQL Editor contains multiple statements.
Select data
To select data in the query results, you can use the following methods:
•You can click a column's header to select the entire column.
•You can click a row's number to select the entire row.
•You can press and hold the Shift key to select a range of cells.
•You can right-click a cell of interest and select various options from the context menu: Selection | [Row | Column | All].
•You can also select all the cells by clicking somewhere inside the table and pressing Ctrl + A.
Copy data
To copy the selected cells, press Ctrl + C. Alternatively, right-click the selected cells and select Copy selected cells or Copy selected cells with header from the context menu.
Sort data
To sort data, you can choose one of the following options:
•Right-click anywhere in the column of interest and select Sorting | [Ascending | Descending] from the context menu.
•Click the dot icon (screenshot below) in the column header until you have selected the relevant option: the arrow pointing up sorts data in ascending order, the arrow pointing down sorts data in descending order.

To restore the default sort order, right-click anywhere in the table and choose Sorting | Restore default from the context menu.