XBRL Rendering and Publishing
An important way to harness the benefits of XBRL is rendering reports in print and web formats for various stakeholders. StyleVision's visual design model radically simplifies XBRL-related rendering, reporting, and analysis, making it possible for business domain experts without deep XML expertise to leverage the full power of XBRL.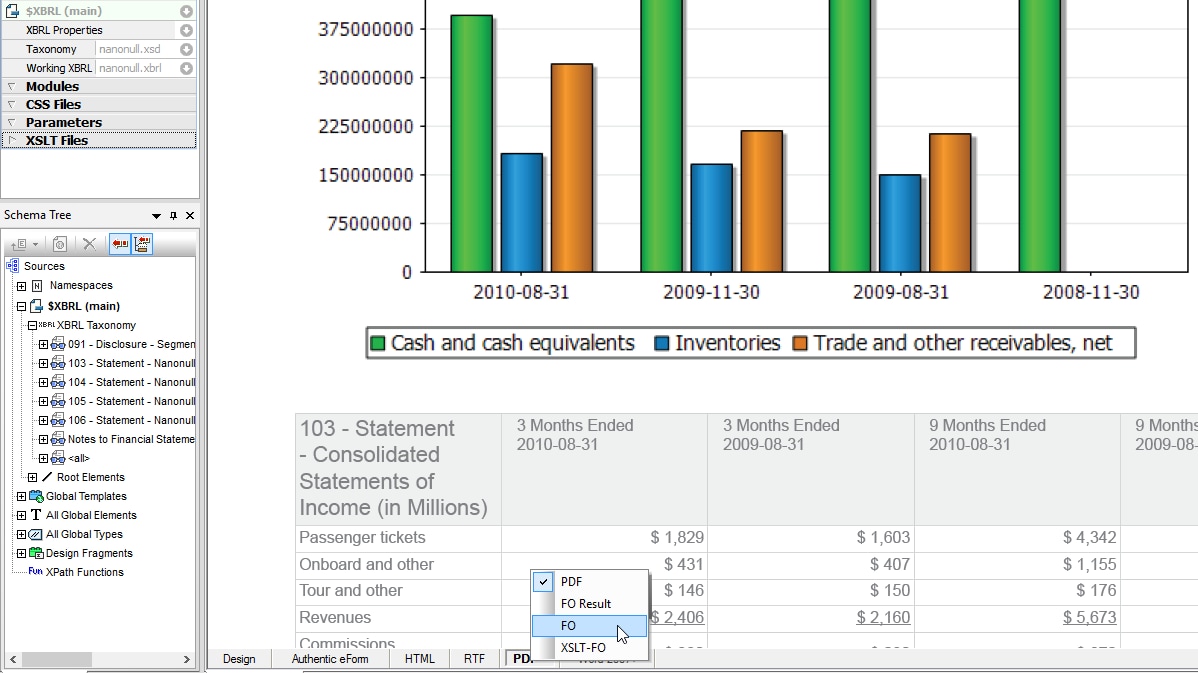 Specialized functionality for publishing XBRL reports includes:
XBRL Table Wizard
XBRL Chart Wizard
US-GAAP mode for automated table generation
Period Properties dialog for XBRL filtering
Advanced filtering with XPath
Support for iXBRL (Inline XBRL)
Interactive navigation (e.g., for XBRL footnotes)
Report generation in HTML, PDF, and Word from a single design
XBRL Table Wizard
To create a straightforward XBRL report, you simply drag and drop a taxonomy financial statement onto the design pane as an XBRL table. The XBRL Table Wizard makes it easy to customize the table structure and specify the concepts to include in the report. In the case of the US-GAAP taxonomy, you can simply select US-GAAP mode to have StyleVision automatically render the data according to this information.
When your taxonomy contains XBRL Table Linkbase definitions, StyleVision will render the table automatically based on the specified parameters, making it quick and easy to publish XBRL tables in your reports.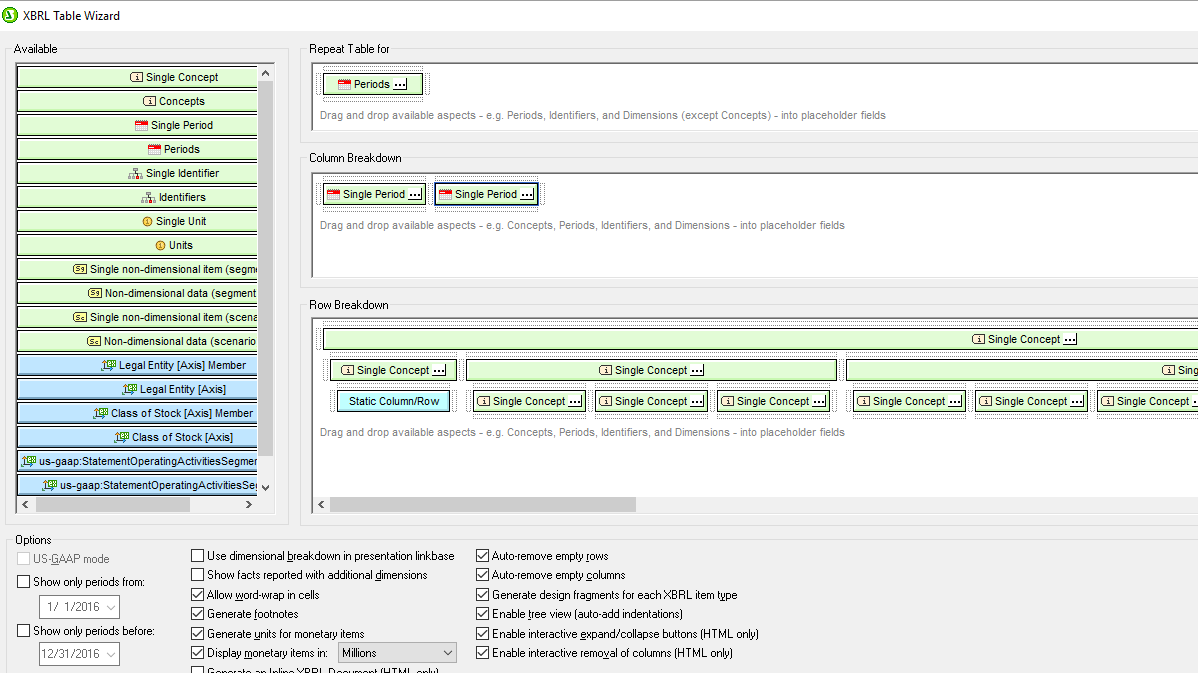 XBRL Chart Wizard
Similarly, StyleVision provides a wizard for automatically generating charts of XBRL data in your reports. You can customize the data rendered in your charts simply by selecting the desired category or series values (Concept and Period are the defaults) in the properties dialog box. The Period Properties dialog box allows you to filter by XBRL periods, which simply describe the length of time for which a particular concept is being reported (i.e., instant, duration, or forever), so that you can make meaningful comparisons.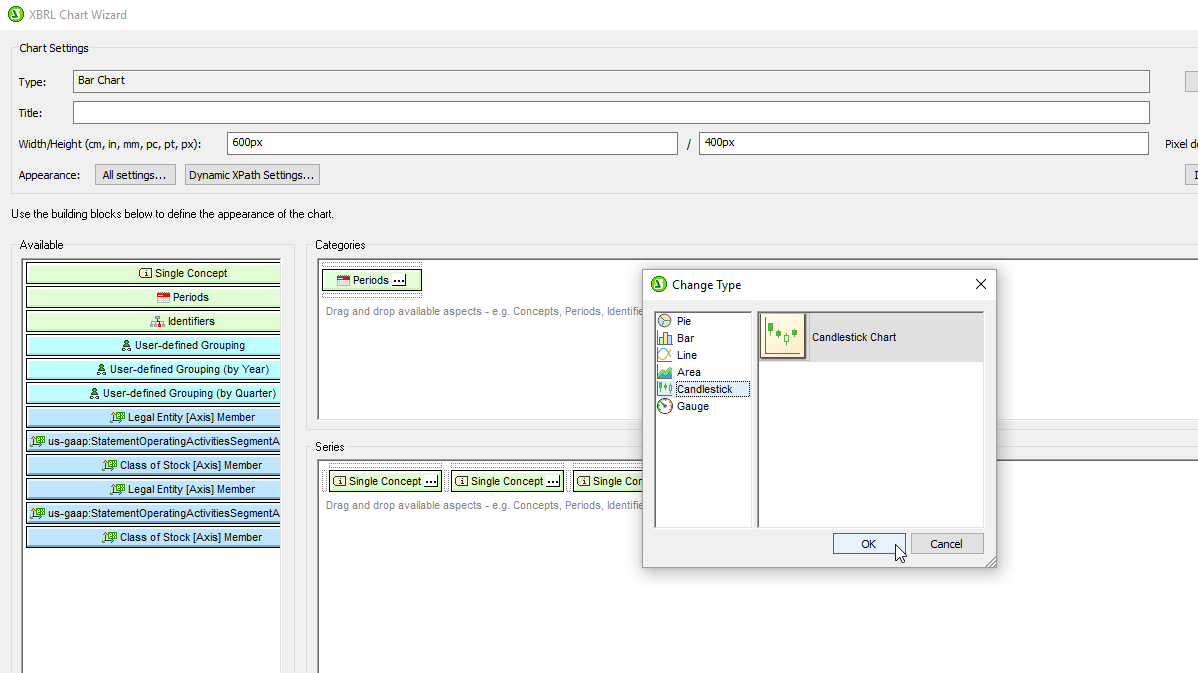 Automatic iXBRL Generation
Because iXBRL embeds XBRL in a human-readable HTML document, it's an efficient means of decreasing the complexity of preparing and publishing financial reports while enabling the use of XBRL data by investors and other market participants.
To make rendering this output even easier, StyleVision includes an iXBRL Wizard for US-GAAP taxonomies that will automatically generate an iXBRL document based on definitions in the presentation linkbase.
When you load a US-GAAP taxonomy as a data source in StyleVision, the iXBRL Wizard will allows you to select which tables to create and to configure other options. Then, it will autogenerate the corresponding iXBRL document.