Security
FlowForce Server includes a robust set of security features to control access to the system.
Administrators can configure security features to permit multiple departments or user teams to share use of a single powerful physical server without compromising each other's server objects or private data stores anywhere on the network.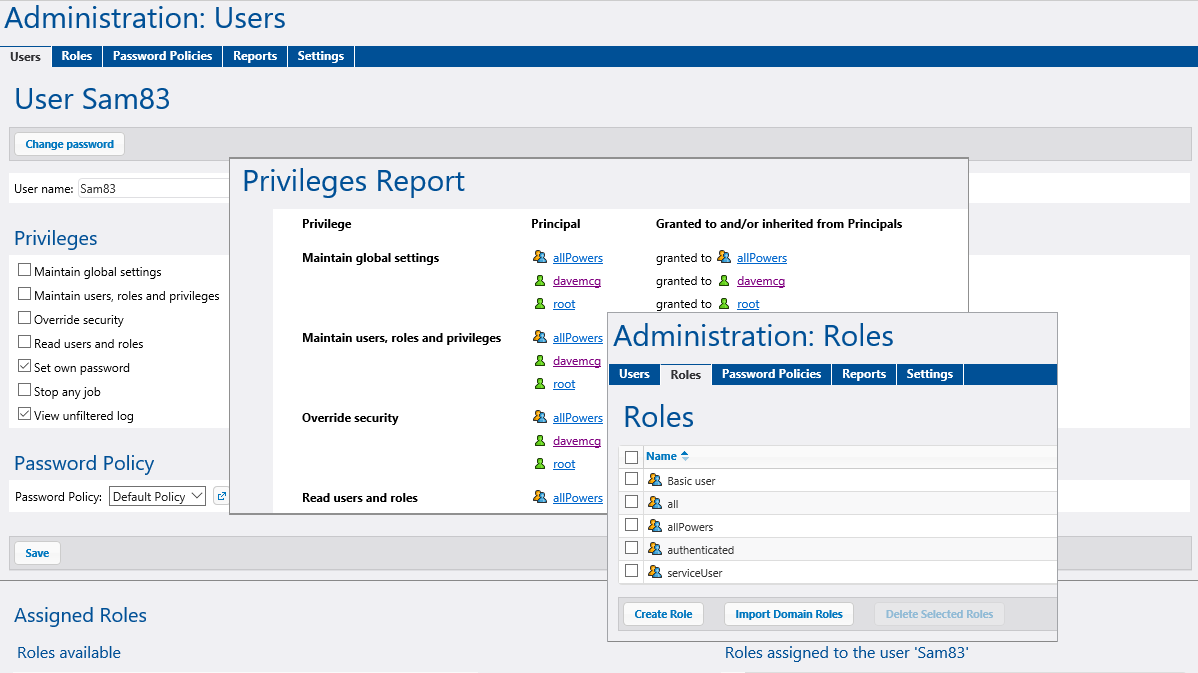 All access to the FlowForce Server starts by logging in with a valid user name and password. System administrators create new user accounts and assign user privileges. Users are also assigned to one or more operating roles within the system.
Roles can be defined in a structure where one role is a member of another role and inherits all the wider role's privileges. In addition, the narrower role can confer unique privileges. For instance, a role might be called Director of Manufacturing and be a member of the Manufacturing Department role, which in turn is a member of the Employees role.
This system allows administrators to easily configure groups users with identical privileges and creates a hierarchical organization of powers and responsibilities.
A container is similar to a folder in a file system. FlowForce Server containers create a hierarchical structure for storing configuration objects and even other containers. Administrators define access to containers by assigning access permissions for each role, and roles are in turn assigned to users.
Two predefined containers exist in FlowForce Server: /system contains built in system functions to allow FlowForce Server jobs to copy, move, or rename files, create directories, etc., and /public is the default container for mappings deployed from MapForce and stylesheets uploaded from StyleVision.
Administrators may create additional containers as needed, for example to isolate the resources of departments or other groups of users.
A credential is a stored operating system login used to execute FlowForce Server jobs.
FlowForce Server jobs start automatically when a defined job trigger condition is met. FlowForce Server runs the job using a specific operating system user account, ensuring that job steps may not access unauthorized data, either accidentally or intentionally.
Every FlowForce Server job MUST have an assigned credential for the job steps to be executed. Additionally, the operating system user referenced by the credential must have sufficient access permissions to directories holding FlowForce Server components.
Credentials can be defined as standalone objects and assigned to multiple FlowForce Server jobs, or a credential can be manually entered for any specific job.