Authentic Features for Developers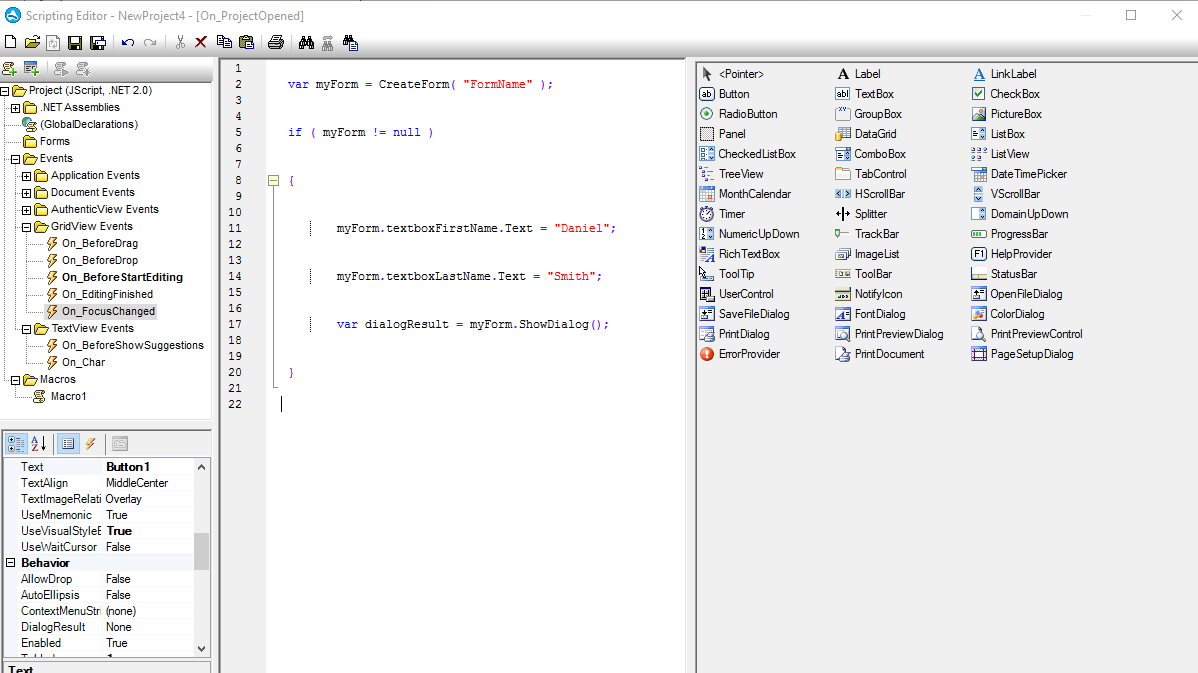 Authentic, for end users, is an intuitive tool for data collection and content authoring. For XML- and SQL-focused solution developers, Authentic is an enterprise-scale forms and workflow platform, offering a comprehensive feature set and integration with other enterprise systems and resources.
Developer-oriented functionality includes:
Auto-calculation and business rule validation using XPath expressions
XML digital signatures
Event-driven workflow
Custom toolbar buttons
Dynamic form presentation based on user input
Integration with source control systems
Scripting and macros
COM, Java, and third-party plug-in APIs
Support for Java and .NET calls in XPath statements
WebDAV repository integration
Eclipse and Visual Studio integration
Scripting and macros
Authentic scripting lets developers create robust content editing applications for business users. Scripts are created in the Scripting Editor in StyleVision and executed in Authentic, with full support for global declarations, event handlers, macros, and custom forms that are embedded directly into the Authentic form.
Various examples of scripts in practice are included in the example files that ship with StyleVision, and the Scripting Editor for Authentic and its features are described in detail in the Authentic Programmers' Reference.
XML Signature
To address security concerns, StyleVision developers can enable XML digital signature capabilities in Authentic forms quickly and easily. Then, the Authentic user can attach a digital signature (either his own or the one identified by the StyleVision designer) to the XML file.
Automation Server for XML Publishing
As an automation server, Authentic exposes programmable objects to other applications, enabling them to access its functionality and automate processes through an integrated COM API or Java API. These are the same APIs that provide access to XMLSpy functionality from external programs.