Country by Country Reporting Solution
The Altova CbC Reporting Solution makes it easy for reporting companies to generate Country by Country reports in XML.
It's Finally Easy to Generate CbC XML
The Organisation for Economic Co-operation and Development (
OECD
) mandates that large, multi-national companies report financials annually for each country in which they do business, and this Country by Country (CbC) Report must be filed in XML document according to the OECD reporting schema. This allows the OECD to take advantage of the many benefits of XML - but it provides a significant challenge to financial professionals unfamiliar with XML technology.
Altova created the CbC Reporting Solution to allow filing organizations to easily generate CbC XML - either by entering data manually via a friendly web interface, or by uploading the data using an Excel template.
Advantages of the Altova Approach
The Altova CbC Reporting Solution makes it easy for non-technical business users to automatically generate XML reports for filing with their tax authorities. Advantages of the solution include:
Created based on Altova's 20+ years of experience in the XML field
Built-in data validation and error flagging at multiple steps
Easy for non-technical users
Automatically generates valid XML CbC report
Accepts manually entered data or uploaded Excel data
Includes Excel template for defining recurrent reporting
Solution is installed in customer's IT infrastructure – sensitive data remains internal
No black box: customer can access and review actual XML report, if desired
Creating the CbC XML Report
Users can access your organization's CbC Reporting Solution via a user-friendly web browser interface.
The reporting solution guides users as they enter information with descriptions of each field, required fields highlighted, and drop-down menus populated with valid entries. Once you've entered the Organization details, you can create a new report or view existing reports that already exist for your company.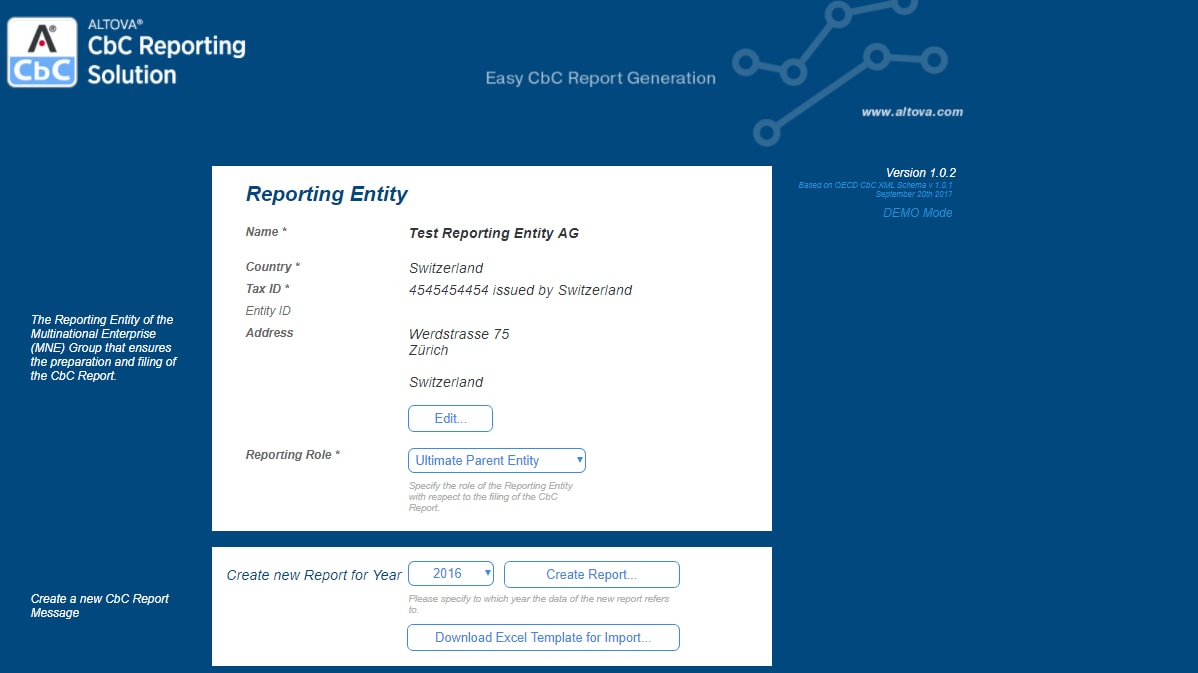 As you can see, you can create a new report and enter data manually – or, for large multinationals with several entities on which to report, you can download an Excel template for importing the data.
For manual data entry, the CbC Reporting Solution guides the user through the process.
Tabs for Message Information, Reporting Entity, Report Data, and Additional Information are easy to navigate and understand.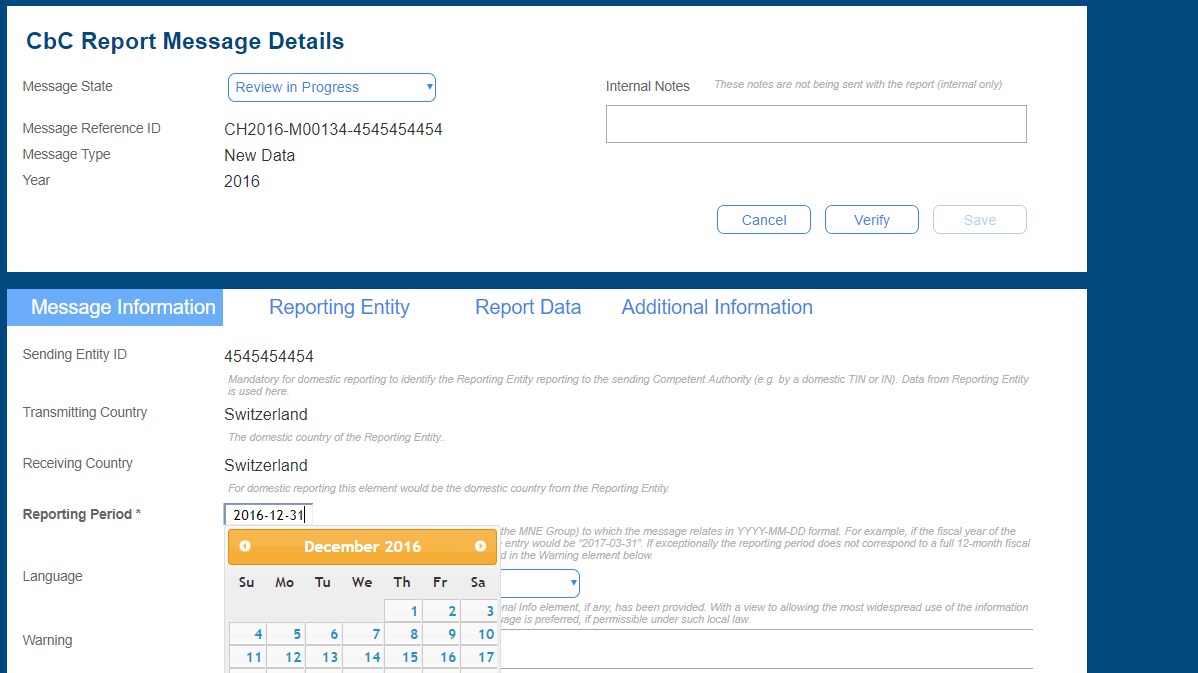 Your organization can enter the list of countries where they have a business presence, along with the corresponding data, as well as data about each subsidiary company in each country. Simply click the "Add Country" button as many times as required. Then, use the Add Company button to add the companies doing business in each country.
The Verify button allows the user to verify that information is valid at any time during the entry process, helping to identify and address errors immediately.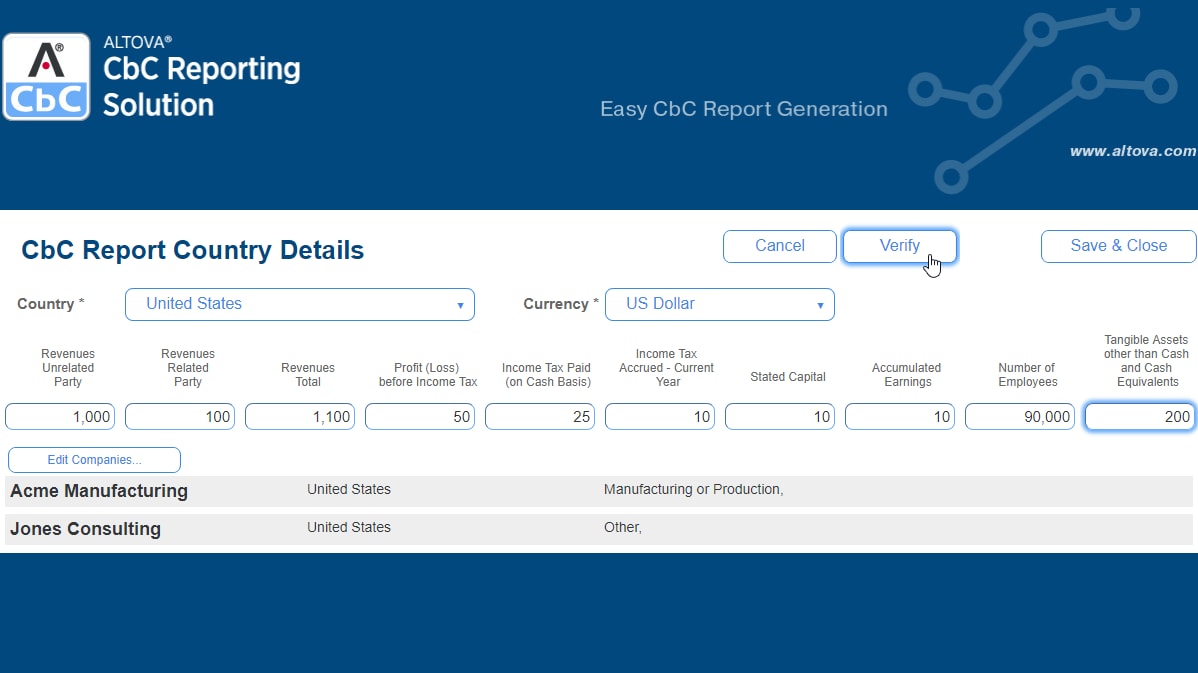 After data is complete, use the Create Report button to generate your CbC report in valid XML, as shown
below
.
Excel Template for Preparing CbC Data
To streamline this process even further, companies or tax preparers can use the Excel template for the CbC Reporting Solution to prepare data.
The Excel template includes some built-in data validation functionality, which shows errors in red, as well as entry helpers that speed data entry.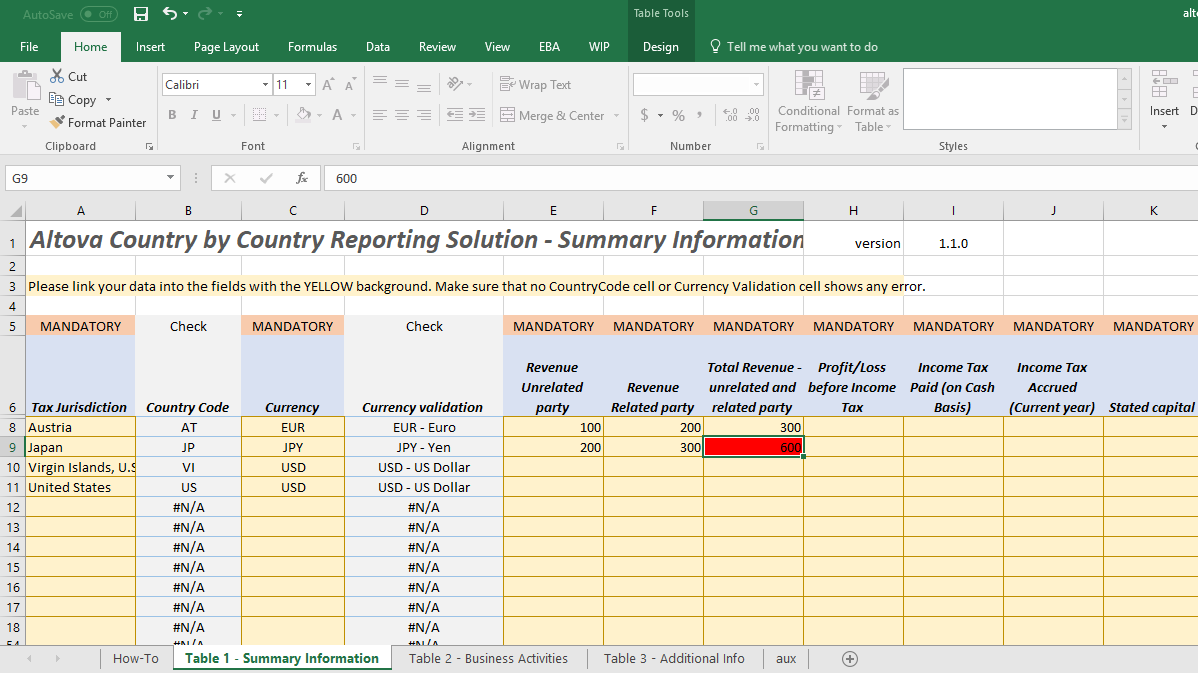 It's also easy to link the fields from your company's existing Excel documents to the template, instead of entering the fields manually. This way, typing errors are prevented, and the template data will be updated automatically with any change in the source data.
When data is complete, the user selects Save-as from the Excel File menu to save the spreadsheet as XML Data (*.xml). The resulting XML file can be imported to the Report Data tab using the Import from Excel button.
Generate CbC XML Documents
Once report data is complete - whether entered manually or imported from Excel - the user can simply click the Create XML button to generate the corresponding XML document and save it for filing. You can also open it – either in an
XML editor such as XMLSpy
or Notepad – if desired, to explore the generated XML.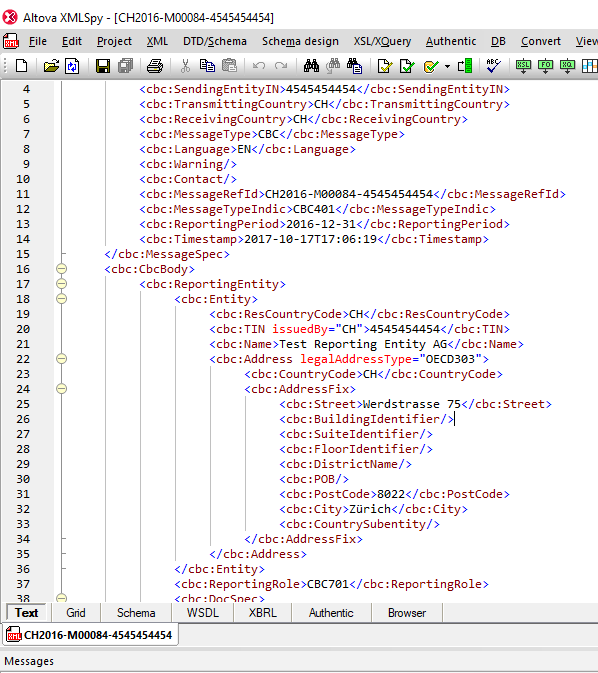 Your Data Remains In-House
Because companies install the Altova CbC Reporting Solution in-house, all sensitive data remains on the client premises or within bounds of its IT infrastructure during report creation.
Video demo of the CbC Reporting Solution
Powered by MobileTogether
Altova created the CbC Reporting Solution using the powerful
enterprise app development tools
in MobileTogether. When you install the CbC Reporting Solution, you get access to the solution as well as MobileTogether Server.
This has two advantages: the solution may be accessed by anyone permitted in your organization via a simple URL, and, if required, you can modify the solution to meet your organization's needs using the free MobileTogether Designer.
Purchase the CbC Reporting Solution
The CbC Reporting Solution files are provided free under the Apache 2.0 license. Operation of the solution requires a license for MobileTogether Server, which you can obtain for a free 30-day trial or purchase via the Altova Online Shop.