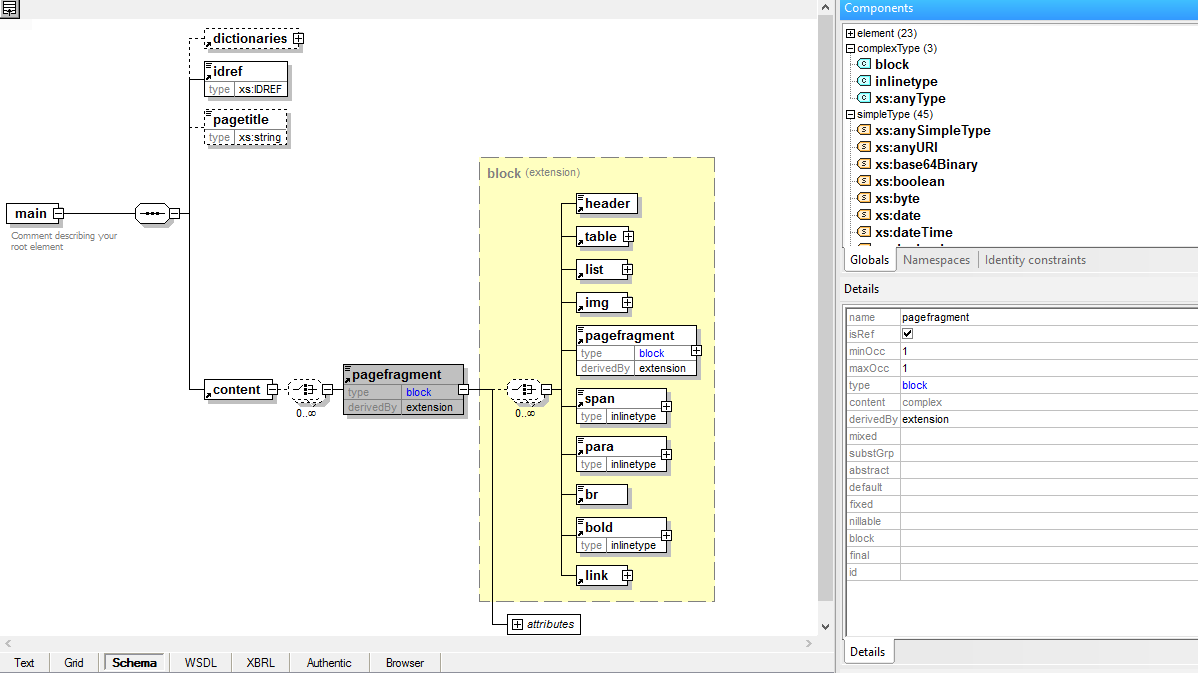 XML Schema Editor
XSD structure lends itself easily to a visual editing environment. Working in the graphical XML Schema Editor in XMLSpy, you'll have access to helpful entry helpers and wizards. The schema design view uses a visual, drag-and-drop editing paradigm alongside the industry's strongest XML validation and error-correction engine. Since the XSD editor allows you to create schemas in a graphical manner, you can focus on the semantics of your schema while leaving the syntactical details of the XML Schema language to XMLSpy.
You don't have to start from scratch when modeling an XML Schema. The XML editor will generate a valid schema based on an existing XML instance or group of instances (XML to XSD), a DTD, a database schema, and even a JSON Schema.
Likewise, you can easily convert your XSD to a JSON Schema or DB schema, generate sample XML instances based on an XSD (XSD to XML), and so on. You can also utilize MapForce to convert between XSD and any other type of data (see below).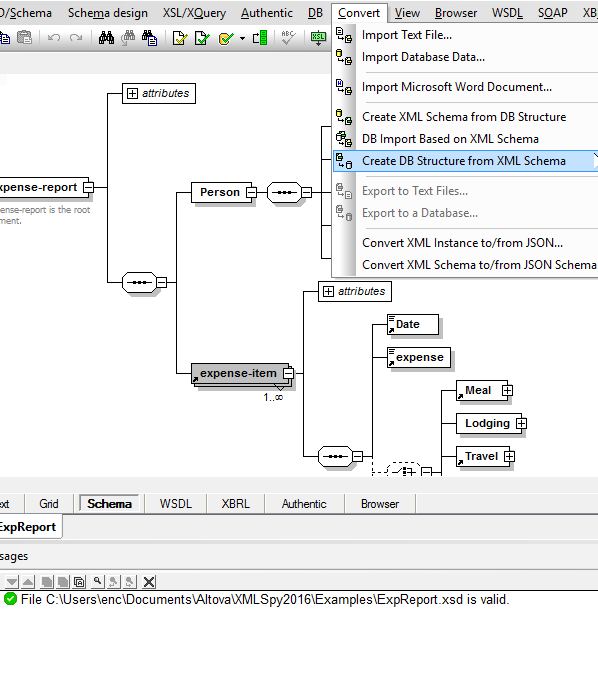 Once you have modeled data elements in XML Schema using the graphical XML Schema editor, XMLSpy can auto-generate class files (data bindings) corresponding to elements defined in your data model.
Royalty-free code may be generated in:
The resulting code is completely customizable via a simple yet powerful template language that gives full control in mapping XML Schema built-in data-types to the primitive datatypes of a particular programming language.
Built-in code generation frees you from the mundane task of writing low level infrastructure code, allowing you to focus on implementing critical business logic.
XMLSpy also auto-generates comprehensive XSD documentation in web and print formats to facilitate teamwork and communication.