New in MobileTogether 4.0
Version 4.0 of Altova MobileTogether was announced on November 7, 2017. Learn about all the new features below and update to the latest version.

Support for Push Notifications


Support for embedding a MobileTogether solution in a web application


New action: Load/Save String


New action: Read Folder


New action: Set Language


New action: MapForce Transfer


Updated Android support for Android 6.0, 7.0, 7.1


Support for PostgreSQL 9.6


Server usage statistics app

Support for Push Notifications
MobileTogether 4.0 introduces the ability to send push notifications to one or multiple devices running MobileTogether apps. Users are familiar with receiving push notifications that provide information, such as news related to the app, and they can also be used to drive actions, such as accepting invitations, linking to a website, or modifying a database.
MobileTogether push notifications can include a short message, a "big" message, and a payload consisting of data structured as key–value pairs. Typically, the short message is what is displayed on the device when the notification is received. When the user taps the short notification, the big message is displayed in the notification area.
Messages can have buttons that allow the user to determine what action to take when the message is received. The payload of the notification is transferred to a data tree on the device and can be used by other actions; this enables new data related to the notification event to be freely processed by the whole range of MobileTogether actions and used with MobileTogether controls.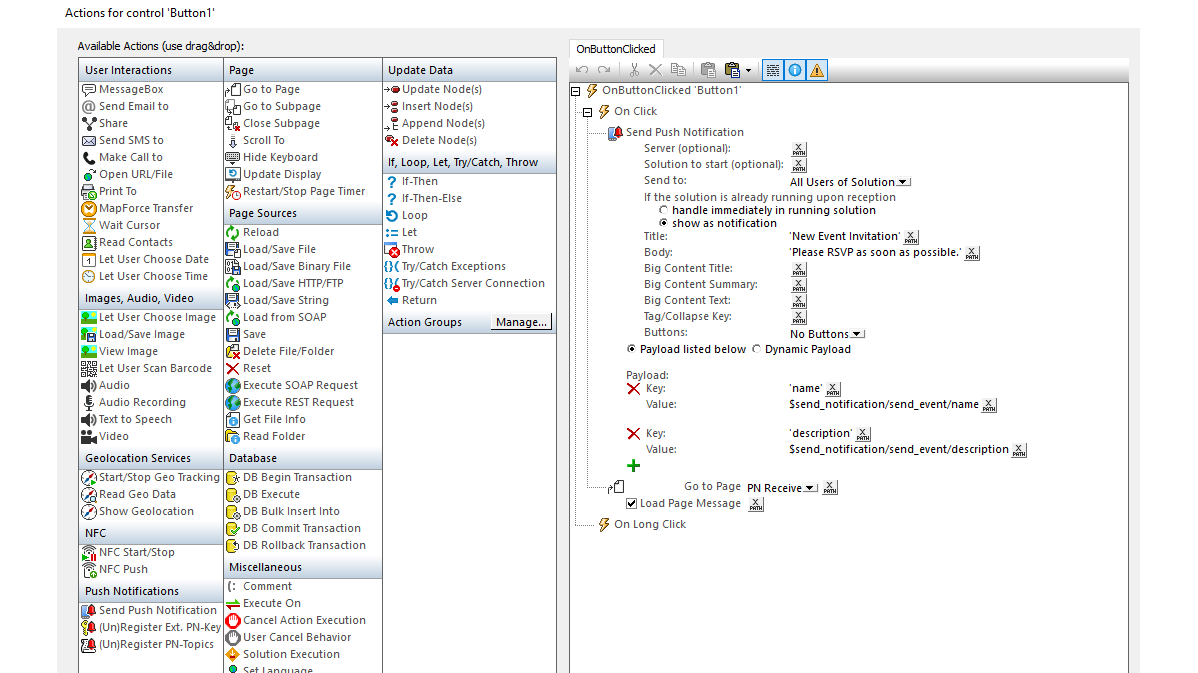 Deciding which devices receive a particular push notification is highly configurable. For instance, it can be sent to specific users (defined by name or role) or all users of an app. It may also be sent to users that have subscribed to receive news about specific topics (e.g., news, travel, etc.).
These flexible options for implementing push notifications give MobileTogether app developers yet another tool for building today's most sophisticated apps.
Support for Embedding a MobileTogether Solution in a Web Application
This functionality allows developers to embed one or more MobileTogether solutions directly in a web page to, for example, enable web-based form applications. Once the solution is embedded, data can be exchanged easily between the web page and its embedded MobileTogether solution using JavaScript.
The MobileTogether solution itself interacts with MobileTogether Server as usual and receives data that can then be communicated back and forth with the web application.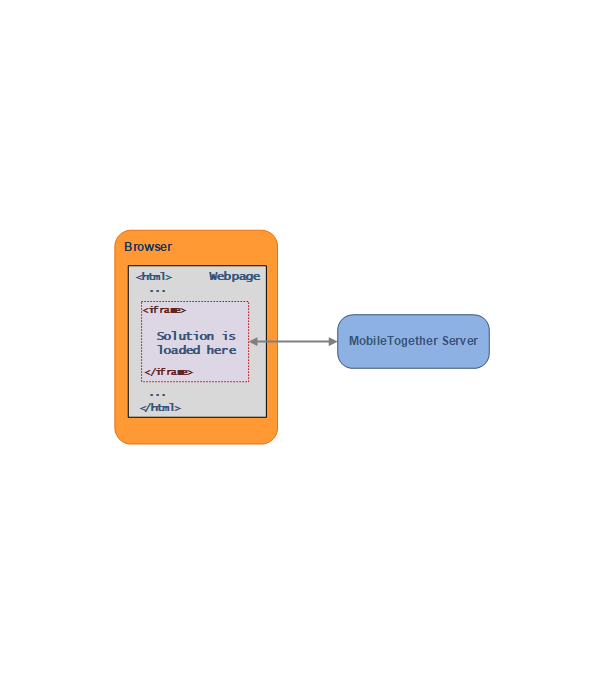 MobileTogether apps are embedded via an iFrame element in the HTML code of the web page, and multiple options for user or device authentication are available, if required.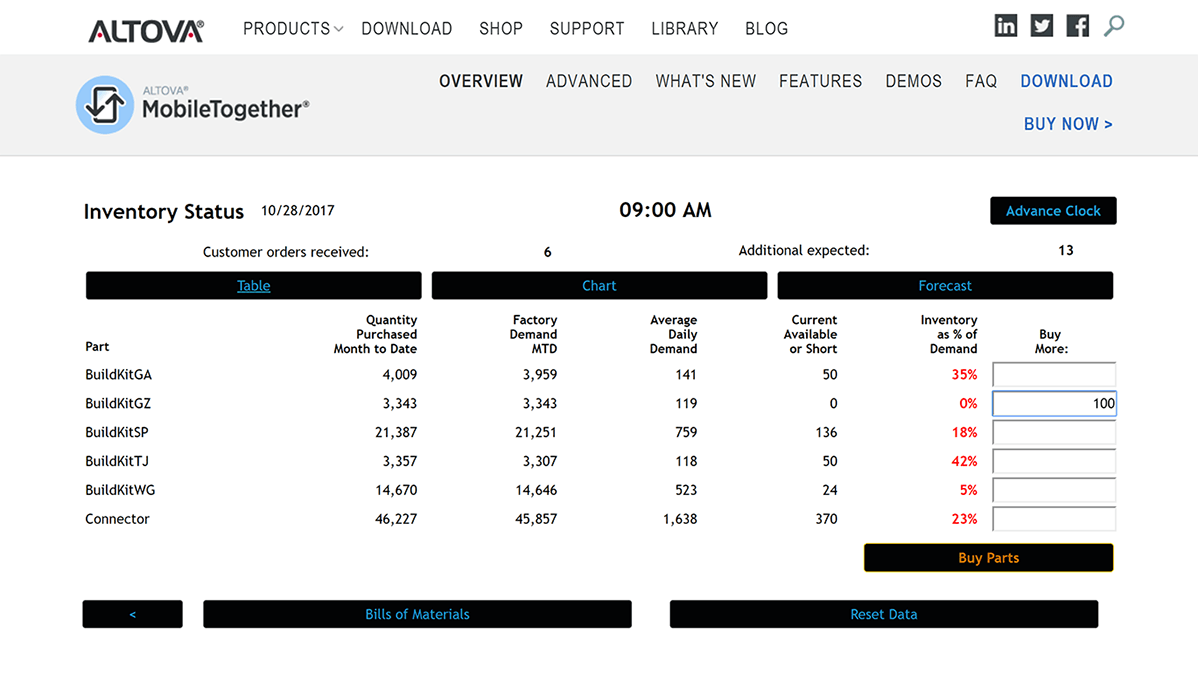 This functionality has been requested by several customers and now makes MobileTogether even more useful for browser deployment and web development.
New Action: Load/Save String
This new action pair is particularly applicable for use when embedding MobileTogether app solutions in other web applications, as described above. The Load from String action can take the XML or JSON string and generate a page source. Conversely, an XML/JSON page source can be serialized to a string with the Save to String action and stored in a page source node.
New Action: Read Folder
This new action makes it possible to retrieve a list of files and sub folders from a folder on the MobileTogether Server or client at runtime. This is important when the folder structure is not known to the app.
New Action: Set Language
When a MobileTogether app is available in multiple languages, the language selection is set based on the default language of the device operating system. This new action makes it possible for the language of the app to be manually changed by the user. This way, the app can be restarted in an alternative language when desired, for instance, if you're traveling abroad or communicating in an app with users who don't speak the same language you're using on your device.
You can see this action already in use in the
Altova Group & Gather app
, which is available in five languages. Users can switch back and forth as needed.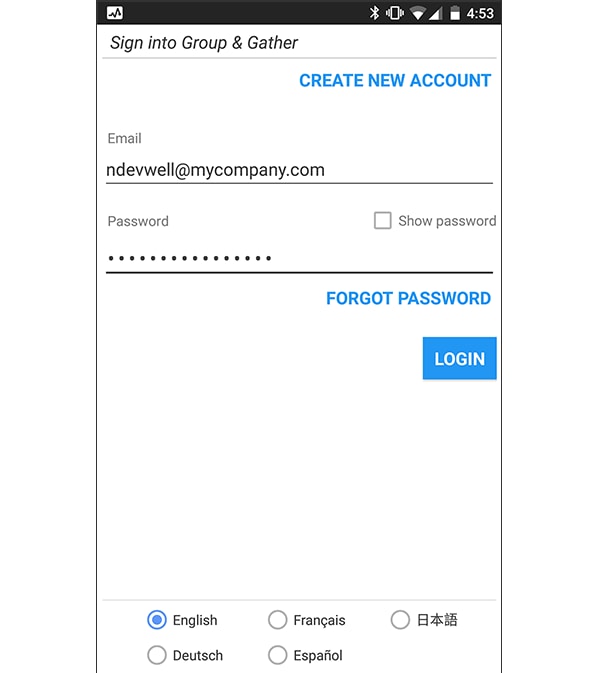 New Action: MapForce Transfer
Altova MapForce Server provides high-speed automation of data mapping projects defined in the MapForce data integration tool. With this new action, it is now possible to call MapForce Server directly from MobileTogether Server to perform data transformations required by an app.
The MapForce Transfer action enables one set of data structures to be converted (mapped) to a second set of data structures. Each data structure of the output set can be written to a file or to a node of a page data source in the MobileTogether app design.
Because MapForce supports EDI, XBRL, flat files, Excel, Web services, and other data formats in addition to XML, JSON, and relational databases, this new action lets MobileTogether apps now utilize a wider range of legacy and other back end data sources.
To enable this functionality, MapForce Server must be installed on the same machine as the customer's MobileTogether Server.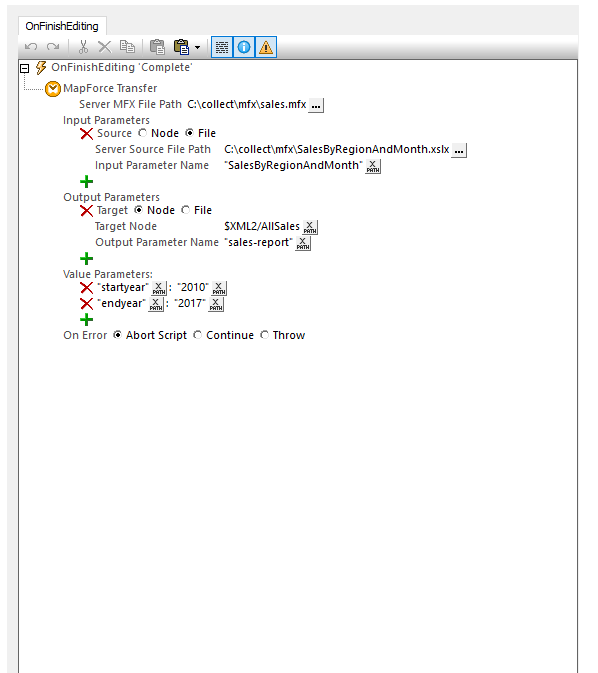 Server Usage Statistics App
The MobileTogether Server 4.0 installation includes a powerful app for the server administrator that displays various statistics about individual solutions running on that server.
The Statistics app presents stats and charts on numbers of users, devices, app starts, server requests, and more, in a selected time frame. Granular filters allow you to view these stats per operating system, device type, or manufacturer; per app; and so on. You can also see stats on request counts and app starts.
The app has three tabs:
Users/Devices/Requests
Usage by time of day
OS/Manufacturer/Platform/Device kind
Each tab provides filters that let you customize the report.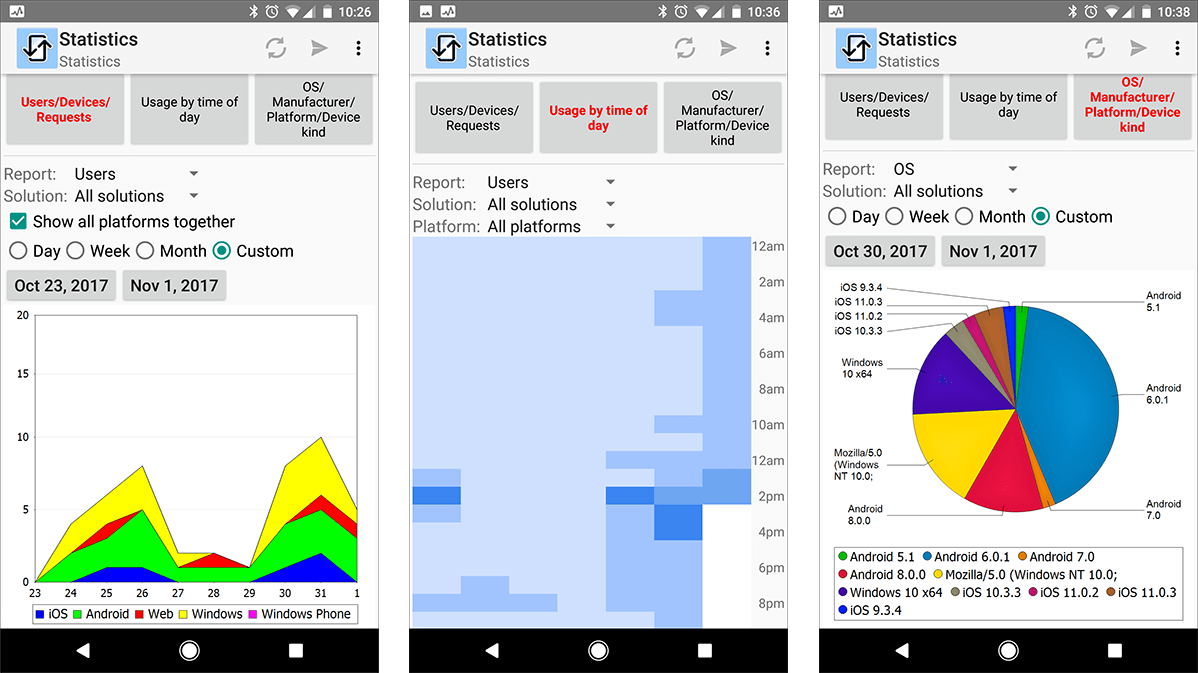 This new app makes it easy to get an accurate view of the usage and popularity of each app on your MobileTogether Server.
Update
Existing customers may
update
to the latest version here
New in MobileTogether
Support for Push Notifications and other new features for cross-platform mobile app development in
MobileTogether 4.0
New Features in Previous Versions
Learn about all the additional capabilities that have been added in each MobileTogether release.
Version 3.2 (May 10, 2017)
Version 3.2 (May 10, 2017)
Near Field Communication:

Support for NFC messages


Ability to access mobile device contacts


Text to speech


Wait cursor and optional message


Actions for date and time pickers


Get file info


View and image full screen

Enhancements to Existing Actions:

Pre-defined sounds for common scenarios


Support for reply-to in emails


Significantly extended scroll-to action


Goto page/subpage via XPath


Dynamic table growth: left to right


On-demand loading of tables


New pre-defined button looks


Support for JSON5


Numerous chart enhancements


Improvements in Browser execution


Single-thread execution option for MobileTogether Server

Version 3.0 (October 10, 2016)
Version 3.0 (October 10, 2016)

Support for barcodes


Multi-level style sheets


Automated testing facility - to record and re-run tests in Designer and on clients


New action: print to PDF, Word, or RTF from client


Ability to open files (e.g., PDF) on client


Significant speed increase for Windows and Windows Phone client


Completely re-written browser client

Version 2.2 (May 31, 2016)
Version 2.2 (May 31, 2016)

New action for recording audio


New action to play audio


New action to play video


A new control to embed video within an app


Audio and video XQuery extension functions


A new Simulator feature for LAN connections


End-user file dialog


Enhanced context menu for tables

Version 2.1 (April 4, 2016)
Version 2.1 (April 4, 2016)

Completely new pricing


New control: Slider


New control: Vertical line


New button looks: Share and Email


New action: Share. Familiar option for sharing via Facebook, Email, Messaging, etc. apps


New action: DB Bulk Insert Into. For quickly inserting multiple rows into a database at once – speeds up to 100x faster *


New action: Let. Allows definition of temporary variables in action trees


New action: Return. Allows an action group to return a result of any complexity; action group can act as a programming subroutine


Subpages: possibility to return result on close (in conjunction with Let action)


Action groups: possibility to pass parameters (and even other action groups) to an action group


New action: Try/Catch. For sophisticated error handling and recovery


New action: Throw. As part of the Try/Catch action, Throw allows definition of exception conditions


New action: Cancel Action Execution. For example, at a validation error in user-entered data


New action: Scroll to Table Bottom. For example, when adding new rows to a scrollable table


New action: Load Image. Load an image for further processing, for instance to transfer to a database


New action: Show Route. Adds to geolocation functionality; show a route between two points


New Action: Loading/saving files on client devices. Users can save files / share between apps on device


Creating folders automatically when saving files on client or server. When saving to a folder that doesn't exist, it can be created


New action: Delete Files/Folders. As permitted by the client operating system or server administrator


New action: Restart/Stop Page Timer. Interrupt the page timer and even reset the timer interval


New action: User Cancel Behavior. More flexibility for letting user cancel at predefined safe locations


Flexibility to set some existing properties via XPath


New property: text size in pixels


New XPath function: mt-connected-via-wifi


New XPath function: mt-font-height


New XPath function: mt-control-width


New XPath function: mt-user-tried-to-cancel-actions


Quick search in XPath function dialog


New option to hide page title bar


Customizable login/index page for browser client


Speed up of app starts when connection is slow


New keyboard style: Visible Password


New demo app: MyCollections

Version 2.0 (November 10, 2015)
Version 2.0 (November 10, 2015)

Build your own AppStore Apps


New server licensing option: per server core


Support for REST and SOAP Web services


Support for JSON data


Support for Firebird databases


Other supported databases updated to include newest versions


Parallel processing of multiple solutions


Signature / simple drawing control


Load/save files with filename calculated via XPath


Simulate missing Server access


Support for Windows 10


Support for Windows 10 Edge Browser


New XPath functions for color handling


Support for multiple languages: English, German, French, Japanese, Spanish


New flag for source trees: Keep data on client


New page action: OnServerConnectionError

Version 1.5 (April 28, 2015)
Version 1.5 (April 28, 2015)

Send emails to one or more recipients and optionally include attachments


Action loops for repeated execution of a sequence of actions


Start app solution via a link that includes parameters (can also send link via email functionality above)


OnClick vs. OnLongClick


Hide keyboard


Update display during execution of a series of actions


Automatic save for database tables without primary keys


Execute actions on typing in the Browser


Support for Radio Buttons as an alternative to On/Off Switch controls


New horizontal line properties for dashed and dotted lines


Button Look properties to add symbols to buttons


Support for user CSS and font files for solutions running in Web browser windows


A property to set any control width as a percent of screen width


Unified data types for relational database tables


Optionally remove source nodes that are inserted by Append/Insert node action


Multiple versions of the same solution may coexist on server to accommodate outdated client apps


MobileTogether Client configuration may be sent via email link to simplify set-up for end users


Several convenient and time-saving editing shortcuts have been added to the MobileTogether Designer

Version 1.4 (February 2, 2015)
Version 1.4 (February 2, 2015)

Robust support for geolocation services


Support for Android version 5.0


Support for XPath and XQuery 3.1 (adds to support for previous versions)


String localization (enhances existing support for localization)


Support for additional specific headers in HTTP requests


Feature allowing one MobileTogether solution to start another solution when it terminates


iOS 7/8 rendering in the Simulator portion of the MobileTogether Designer


Ability to edit the XML tree directly in the Simulator


Additional refactoring support


Display versions of connected clients on the MobileTogether Server

MobileTogether Commercial Release (November 10, 2014)
MobileTogether Commercial Release (November 10, 2014)

MobileTogether Server available for Linux and MacOS, in addition to Windows


New action: Let User Choose Image from gallery or camera


Image embedding


New action: Save Image to File


New action: Execute on Server/Client


New XPath functions for image processing


New XPath functions for geolocation processing


Additional new XPath functions

MobileTogether Beta 2 (September 17, 2014)
MobileTogether Beta 2 (September 17, 2014)

Support for SQLite databases


Support for dynamic SELECT statements fully generated with XPath/XQuery)


Automatic retrieval of auto-number primary key after Save action to database


Support for data retrieval in DB Execute action


Support for user authentication via Windows Active Directory


Support for user to choose his/her own password in client


Support for user to change his/her password on first login


Auto-correcting HTML parser


Mobile Apps translated to German, Spanish, Japanese


New variables: $MT_ButtonBackgroundColor, $MT_ButtonTextColor, $MT_EditFieldBackgroundColor, $MT_EditFieldTextColor, $MT_LabelBackgroundColor, $MT_DBExecute_Result, $MT_SimulationMode


New functions: mt-has-serveraccess, mt-refresh-userroles, mt-external-error-code, mt-external-error-text

MobileTogether Beta (July 22, 2014)
MobileTogether Beta (July 22, 2014)

MobileTogether is made available as a public beta.

Update
Existing customers may
update
to the latest version here