New in MobileTogether 3.2
Version 3.2 of Altova MobileTogether was announced on May 10, 2017. Learn about all the new features below and update to the latest version.
Near Field Communication:

Support for NFC messages


Ability to access mobile device contacts


Text to speech


Wait cursor and optional message


Actions for date and time pickers


Get file info


View and image full screen

Enhancements to Existing Actions:

Pre-defined sounds for common scenarios


Support for reply-to in emails


Significantly extended scroll-to action


Goto page/subpage via XPath


Dynamic table growth: left to right


On-demand loading of tables


New pre-defined button looks


Support for JSON5


Numerous chart enhancements


Improvements in Browser execution


Single-thread execution option for MobileTogether Server

See What's New in This Quick Overview
Near Field Communication
NFC (near field communication) is a set of communication protocols that allow two devices to exchange messages when within a few centimeters of proximity. Applications for NFC are many, from the well-known mobile payment systems, to easily sharing links, contacts, and other information with friends, to providing interesting content to visitors as they browse a park, museum, or other attraction equipped with NFC tags. NFC-equipped devices can also act as an electronic identity document or keycard.
MobileTogether now supports pushing and receiving NFC messages including text, URI, MIME media, application records, and more, further broadening the scope of advanced functionality developers can add to their MobileTogether apps.
MobileTogether also now supports Android Beam in Android apps. Android Beam uses NFC to allow users to share their screen content - videos, directions, etc. - by placing their devices back-to-back.
NFC support in MobileTogether is implemented with several NFC design components including actions to start/stop NFC transmission or push a message, a page source tree to be populated when an NFC tag is discovered, and NFC-related events and XPath extension functions. MobileTogether also includes a template for NFC sample files so developers can test their app in the MobileTogether Simulator.
Note: NFC is supported for Android and Windows devices. iOS restricts NFC use to Apple Pay only, so it can't be used with other kinds of data.
Ability to Access Device Contacts
Apps built in MobileTogether can now access information from the user's contacts stored on the device, which is useful, for example, when a user wants to send something via email or SMS, or place a call from within the app.
When the Read Contacts action is added to a mobile app design, the $MT_CONTACTS data source tree is automatically added to the design file. When the action is triggered, contacts from the device's address book are read and stored in the $MT_CONTACTS tree and become available to the design. As shown above, you can specify which fields are stored and whether to read one contact or all contacts.
Text to Speech
Mobile developers can now build apps that include text-to-speech functionality so that the user's device will read text aloud.
When you include the new Text to Speech action in your app, the specified text is converted to audio via the built-in speech synthesizer provided by the underlying OS and played back to the user. This is extremely useful in developing apps for use-cases where the operator might not be able to look at the screen, such as car-based or warehousing applications.
Other New Actions
Wait cursor - show the OS default cursor and an optional message such as "Loading" or "Working" during long actions
Date and time actions - If space on the screen makes it impractical to show the default date picker control, you can instead let the user click a button to bring up the date picker. Coincides with new date and time button-looks described below
Get file info - read the information associated with a file including size, file path, creation date, etc.
View image as full screen - and easily zoom in/out
Enhancements to Existing Actions
Support for reply-to in emails
MobileTogether supports two ways to send emails: from the email application on the device or automatically via MobileTogether Server. Now, for those emails sent from the server, the developer can specify a separate reply-to address.
Significantly extended scroll-to action
This action has been extended to allow scrolling to very precise locations, including the top or bottom of a page or table, to a specific table row, or even to a specific control. This provides additional flexibility for the developer and a better experience for the user, who can now navigate the app much easier.
Go to page/sub-page via XPath
It's now possible to determine which page the user will see next via XPath. For instance, depending on the user's entered data, tapping a button could either show a confirmation page or a page with more information.
Pre-defined sounds for common scenarios
MobileTogether now ships with a set of 16 pre-defined sounds you can quickly apply to various app occurrences such as button clicks, message sent, error triggered, and so on.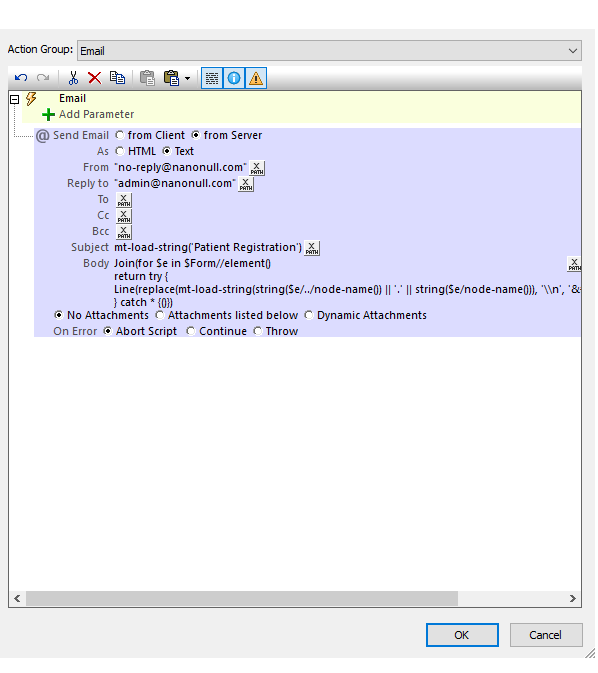 New Features for Tables
Dynamic table growth: left to right
In addition to dynamic rows, tables can now also have dynamic columns, meaning that columns can be added dynamically on the right-hand side to grow the table based on the number of instances an element occurs. For instance, if a table had rows for FIRST, LAST and phone EXT, a new column could be added each time a PERSON element occurred in the source data.
This table definition is shown at the top of the image below, and the resulting scrollable table, which grows from left to right, is shown below it.
The ability to dynamically grow a table from left to right, top to bottom, or both, makes it possible to define tables for virtually any scenario.
On-demand loading of tables
This is a great performance-optimizing feature for apps that include large scrollable tables. The app developer can now specify the number of table rows – known as a chunk – that can be loaded at a time. As the user scrolls to the bottom of the first chunk, the next chunk is loaded.
This allows large tables to be displayed to the user seamlessly, but in a fraction of the time.
New features for chart creation
Comprehensive chart creation functionality has been enhanced even further, as detailed below.
New for Bar Charts:
Add value labels onto the bars
Customize distances between bars within the same series and between series
Y-Axis may be inverted with 0 at the top/right
New for Gauge Charts:
Add value label on chart
Add text label on chart (e.g., for showing units)
New for Area Charts, Line Charts:
Line chart may be used to draw just dots without the connecting lines
Y-Axis may be inverted with 0 at the top
Candlestick Charts:
Y-Axis may be inverted with 0 at the top
Additional Features
Support for JSON5
JSON5 is a proposed extension to JSON that makes JSON code easier for humans to read and write. Now, in addition to JSON, MobileTogether supports JSON5 as a data source.
New pre-defined button looks
MobileTogether includes numerous pre-defined, familiar looks for buttons, such as email, share, print, and so on. In the latest release, we've added additional options: Import, Export, Calendar, and Time. The Calendar and Time looks can be used with the new actions for date and time pickers described above.
Improvements in browser execution
Apps built in MobileTogether may be run in a web browser in addition to on iOS, Android, and Windows devices. In this release, we've added several enhancements to make the web client even better:
New setting makes it optional to show a user a confirmation dialog before closing the web client
If a session expires, it can be restarted automatically when a user returns to the solution
Scrollable tables are now also supported in the browser client
The back button now allows the user to return to the previous sub page
Update
Existing customers may
update
to the latest version here
New Features in Previous Versions
Learn about all the additional capabilities that have been added in each MobileTogether release.
Version 3.0 (October 10, 2016)
Version 3.0 (October 10, 2016)

Support for barcodes


Multi-level style sheets


Automated testing facility - to record and re-run tests in Designer and on clients


New action: print to PDF, Word, or RTF from client


Ability to open files (e.g., PDF) on client


Significant speed increase for Windows and Windows Phone client


Completely re-written browser client

Version 2.2 (May 31, 2016)
Version 2.2 (May 31, 2016)

New action for recording audio


New action to play audio


New action to play video


A new control to embed video within an app


Audio and video XQuery extension functions


A new Simulator feature for LAN connections


End-user file dialog


Enhanced context menu for tables

Version 2.1 (April 4, 2016)
Version 2.1 (April 4, 2016)

Completely new pricing


New control: Slider


New control: Vertical line


New button looks: Share and Email


New action: Share. Familiar option for sharing via Facebook, Email, Messaging, etc. apps


New action: DB Bulk Insert Into. For quickly inserting multiple rows into a database at once – speeds up to 100x faster *


New action: Let. Allows definition of temporary variables in action trees


New action: Return. Allows an action group to return a result of any complexity; action group can act as a programming subroutine


Subpages: possibility to return result on close (in conjunction with Let action)


Action groups: possibility to pass parameters (and even other action groups) to an action group


New action: Try/Catch. For sophisticated error handling and recovery


New action: Throw. As part of the Try/Catch action, Throw allows definition of exception conditions


New action: Cancel Action Execution. For example, at a validation error in user-entered data


New action: Scroll to Table Bottom. For example, when adding new rows to a scrollable table


New action: Load Image. Load an image for further processing, for instance to transfer to a database


New action: Show Route. Adds to geolocation functionality; show a route between two points


New Action: Loading/saving files on client devices. Users can save files / share between apps on device


Creating folders automatically when saving files on client or server. When saving to a folder that doesn't exist, it can be created


New action: Delete Files/Folders. As permitted by the client operating system or server administrator


New action: Restart/Stop Page Timer. Interrupt the page timer and even reset the timer interval


New action: User Cancel Behavior. More flexibility for letting user cancel at predefined safe locations


Flexibility to set some existing properties via XPath


New property: text size in pixels


New XPath function: mt-connected-via-wifi


New XPath function: mt-font-height


New XPath function: mt-control-width


New XPath function: mt-user-tried-to-cancel-actions


Quick search in XPath function dialog


New option to hide page title bar


Customizable login/index page for browser client


Speed up of app starts when connection is slow


New keyboard style: Visible Password


New demo app: MyCollections

Version 2.0 (November 10, 2015)
Version 2.0 (November 10, 2015)

Build your own AppStore Apps


New server licensing option: per server core


Support for REST and SOAP Web services


Support for JSON data


Support for Firebird databases


Other supported databases updated to include newest versions


Parallel processing of multiple solutions


Signature / simple drawing control


Load/save files with filename calculated via XPath


Simulate missing Server access


Support for Windows 10


Support for Windows 10 Edge Browser


New XPath functions for color handling


Support for multiple languages: English, German, French, Japanese, Spanish


New flag for source trees: Keep data on client


New page action: OnServerConnectionError

Version 1.5 (April 28, 2015)
Version 1.5 (April 28, 2015)

Send emails to one or more recipients and optionally include attachments


Action loops for repeated execution of a sequence of actions


Start app solution via a link that includes parameters (can also send link via email functionality above)


OnClick vs. OnLongClick


Hide keyboard


Update display during execution of a series of actions


Automatic save for database tables without primary keys


Execute actions on typing in the Browser


Support for Radio Buttons as an alternative to On/Off Switch controls


New horizontal line properties for dashed and dotted lines


Button Look properties to add symbols to buttons


Support for user CSS and font files for solutions running in Web browser windows


A property to set any control width as a percent of screen width


Unified data types for relational database tables


Optionally remove source nodes that are inserted by Append/Insert node action


Multiple versions of the same solution may coexist on server to accommodate outdated client apps


MobileTogether Client configuration may be sent via email link to simplify set-up for end users


Several convenient and time-saving editing shortcuts have been added to the MobileTogether Designer

Version 1.4 (February 2, 2015)
Version 1.4 (February 2, 2015)

Robust support for geolocation services


Support for Android version 5.0


Support for XPath and XQuery 3.1 (adds to support for previous versions)


String localization (enhances existing support for localization)


Support for additional specific headers in HTTP requests


Feature allowing one MobileTogether solution to start another solution when it terminates


iOS 7/8 rendering in the Simulator portion of the MobileTogether Designer


Ability to edit the XML tree directly in the Simulator


Additional refactoring support


Display versions of connected clients on the MobileTogether Server

MobileTogether Commercial Release (November 10, 2014)
MobileTogether Commercial Release (November 10, 2014)

MobileTogether Server available for Linux and MacOS, in addition to Windows


New action: Let User Choose Image from gallery or camera


Image embedding


New action: Save Image to File


New action: Execute on Server/Client


New XPath functions for image processing


New XPath functions for geolocation processing


Additional new XPath functions

MobileTogether Beta 2 (September 17, 2014)
MobileTogether Beta 2 (September 17, 2014)

Support for SQLite databases


Support for dynamic SELECT statements fully generated with XPath/XQuery)


Automatic retrieval of auto-number primary key after Save action to database


Support for data retrieval in DB Execute action


Support for user authentication via Windows Active Directory


Support for user to choose his/her own password in client


Support for user to change his/her password on first login


Auto-correcting HTML parser


Mobile Apps translated to German, Spanish, Japanese


New variables: $MT_ButtonBackgroundColor, $MT_ButtonTextColor, $MT_EditFieldBackgroundColor, $MT_EditFieldTextColor, $MT_LabelBackgroundColor, $MT_DBExecute_Result, $MT_SimulationMode


New functions: mt-has-serveraccess, mt-refresh-userroles, mt-external-error-code, mt-external-error-text

MobileTogether Beta (July 22, 2014)
MobileTogether Beta (July 22, 2014)

MobileTogether is made available as a public beta.

Update
Existing customers may
update
to the latest version here