US Export Control can be a challenging topic for some businesses to understand. The U.S. Government controls exports of sensitive equipment, software, and technology as a means to promote our national security interests and foreign policy objectives. Under the current export control system, three different US Government agencies have the authority to issue export licenses: the Departments of State, Commerce, and the Treasury.
The Consolidated Screening List (CSL) is a list of parties for which the United States Government maintains restrictions on certain exports, re-exports, or transfers of items. The relevant US Government Departments have consolidated the export screening lists administered by the Departments of State, Commerce, and the Treasury into a common electronic format to facilitate the screening of parties to export transactions to ensure compliance with U.S. export control and sanctions regulations.
We have just published the free Export Screening List App for iOS, Android, Windows Phone, and Windows 8.1/10 that allows you to search for denied persons or entities on the CSL, consisting of the consolidation of multiple export screening lists of the Departments of Commerce, State, and the Treasury.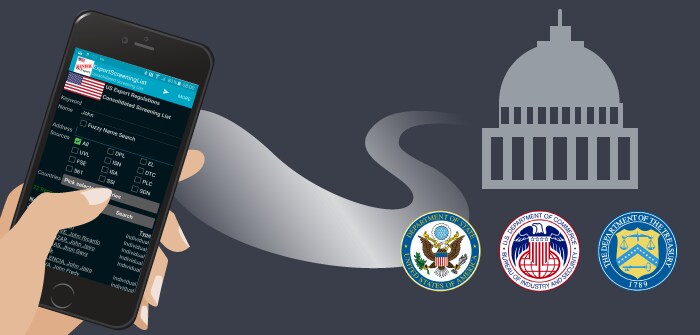 This app may be used as an aid to industry in conducting electronic screens of potential parties to regulated transactions. In the event that a company, entity, or person on the list appears to match a party potentially involved in your export transaction, additional due diligence should be conducted before proceeding. There may be a strict export prohibition, requirement for seeking a license application, evaluation of the end-use or user to ensure it does not result in an activity prohibited by any U.S. export regulations, or other restriction.
The US Export Screening List App is immediately available in the respective app stores and is designed for smartphones and tablets, as well as laptop and desktop PCs:
The US Export Screening List App directly accesses the Consolidated Screening List via the trade.gov CSL API, so any search you perform in the app is always sent to the trade.gov servers, and thus the data you see in the application is always up-to-date!
This cross-platform mobile app for Android, iOS, and Windows was developed using Altova MobileTogether 2.0 – a powerful framework for building data-centric mobile apps. The developer compiled native versions for each operating system from a single layout and codebase created in the MobileTogether Designer.