The Open Information Model (OIM) 1.0 is a new standard created by XBRL International in an effort to simplify working with XBRL data. Though XBRL provides an efficient, standards-based representation of business report data, such data is often originally generated, stored, and/or consumed in other formats.
The OIM provides a model for easily transforming XBRL data between XML and other popular formats including CSV and JSON. This way, organizations can take advantage of the functionality of XBRL and at the same time have XBRL documents written in the format(s) most convenient for them.
The OIM provides new and simpler ways to work with XBRL data to help organizations more easily realize the benefits of XBRL. OIM is an abstraction layer that decouples XBRL from the underlying XML syntax. The OIM instead defines the semantics of a digital report in a generalized form. It also provides a mechanism for mappings to JSON and CSV formats for XBRL data, with the potential for additional formats to be supported in the future.
XBRL International outlines the uses of each type of OIM as follows:
xBRL-CSV is well suited for collecting large volumes of XBRL data in a compact manner
xBRL-JSON helps simplify the understanding and use of XBRL data; presents business reporting data in a web-friendly format ideal for all kinds of analytic processes and systems
xBRL-XML is the original approach to XBRL
Below is an example of XBRL data in JSON format. The xBRL-JSON was converted from an XML-based XBRL report: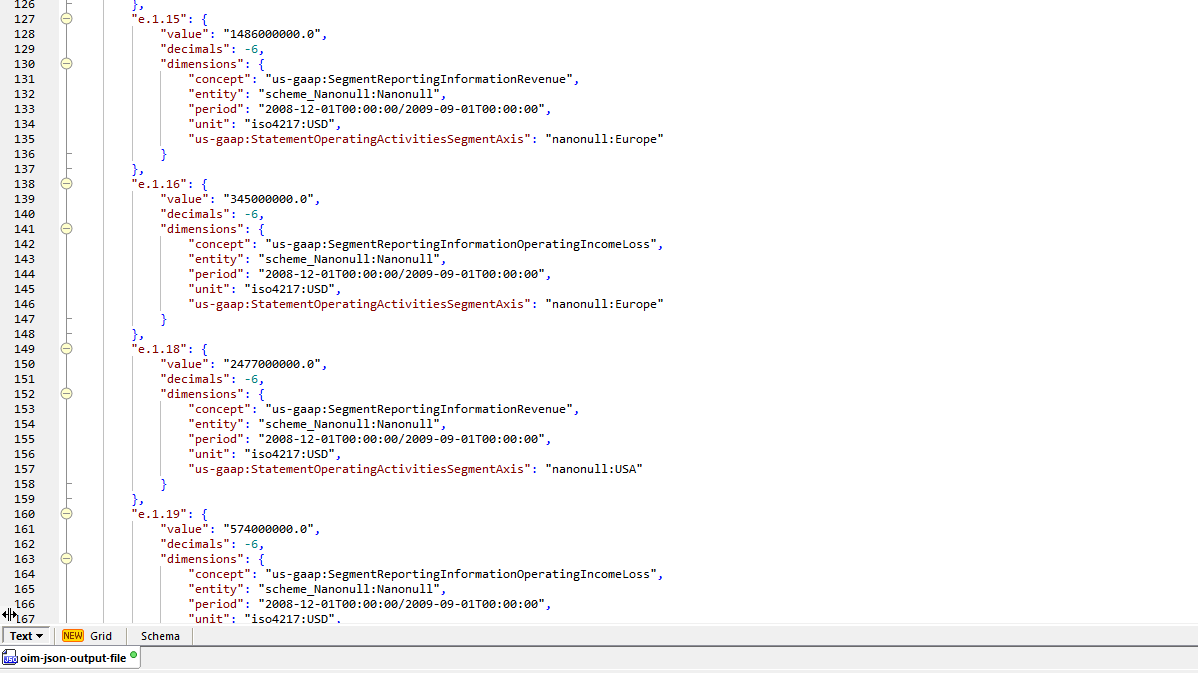 The OIM is not meant to replace the existing XBRL 2.1 specifications; rather, it offers an alternative approach to understanding and working with XBRL. Adoption of the OIM means organizations can express the same things using different formats, as required. XBRL International notes, "It means that the XBRL standard is technology independent."
To fully realize the benefits of the OIM, developers need tools that provide validation of OIM data and easy transformation between xBRL-CSV, xBRL-JSON, and xBRL-XML. Altova's line of XBRL Certified Software products are among the very first to support this promising new standard.