The Colors tab enables you to customize the colors used in the Design window. You can restore the default settings at any time by clicking the Restore default values button.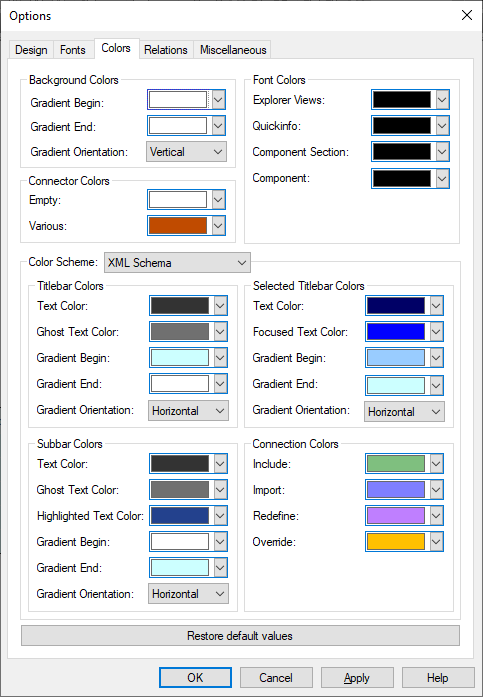 Background Colors
This group box allows you to define the colors for a gradient background as well as the orientation of the gradient.
Connector Colors
The color in the Connection Colors group box refers to the arrowheads to the left and right of a file box. You can define different colors for empty connectors and for connectors combining several different types of connections. The color of the connector lines itself is defined in the Connection colors group box.
Font Colors
Here you define the font color for the different types of text in SchemaAgent Client. The font itself as well as font size and style are defined in the Fonts tab.
Color Scheme
The Color Scheme group box provides a drop-down list where you can select any of the following for editing:
•XML Schema
•XML instance
•Stylesheet Transformation
•Web Services Description
•MapForce Design
Individual group boxes are available where you can change the colors for the title bar when it is unselected or selected and the colors for the sub-bars, that is, the titles of the individual sections of a file box.
Connection Colors
The color in the Connection Colors group box refers to the connection line itself. Depending on the selection in the Color Scheme drop-down list, different options are available:
•XML Schema: Include, Import, Redefine
•XML Instance: Schema, Stylesheet
•Stylesheet Transformation: Include Stylesheet, Import Stylesheet, Import Schema, Inline Schema
•Web Services Description: Import WSDL, Import Schema, Inline Schema
•MapForce Design: Schema, Instance, WSDL