Installing SchemaAgent Client
You can download the SchemaAgent installation package from the SchemaAgent download page (https://www.altova.com/schemaagent/download). If you have purchased Altova® MissionKit™, the SchemaAgent Client is included in the package.
To install SchemaAgent Client, double-click the installer file to run the installation process, and then follow the wizard steps. During the installation process, you will be asked whether you wish to use SchemaAgent locally (by connecting to the LocalServer installed on the current computer together with the client) or connect to an existing SchemaAgent Server.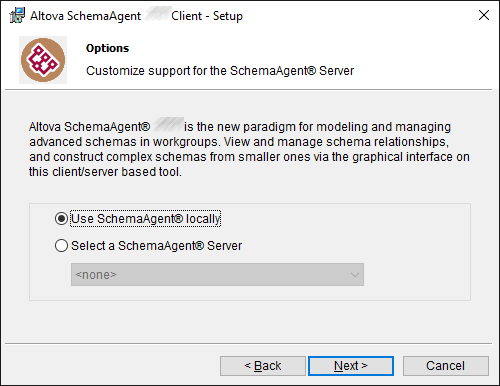 If you choose Select a ShemaAgent Server, you can select from the list any instances of SchemaAgent Server that were previously installed on computers on the local network, see Installing SchemaAgent Server. You can change your preference at any time later, by running the menu command Extras | Connect to Server.