The Keyboard tab enables you to define (or change) keyboard shortcuts for any SchemaAgent Client command.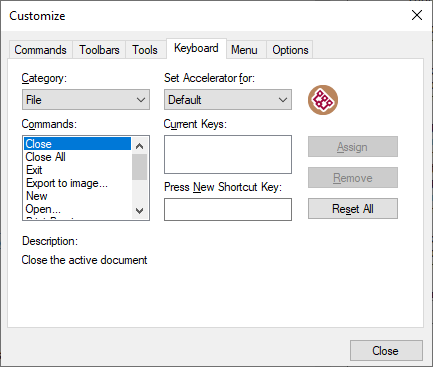 To assign a new shortcut to a command:
1.Select the All Commands category from the Category drop-down list.
2.In the Set accelerator for drop-down list, select one of the following, as applicable:
•Default – this option enables the shortcut regardless of whether the Design window is open or not.
•SchemaAgent Design – the shortcut will work only if the Design window is open.
3.Select the command you want to assign a new shortcut to, in the Commands list box.
4.Click in the Press New Shortcut Key text box, and press the shortcut keys that are to activate the command. The shortcuts appear immediately in the text box. If the shortcut was assigned previously, then that function is displayed below the text box.
5.Click the Assign button to assign the shortcut. The shortcut now appears in the Current Keys list box. (To clear this text box, press any of the control keys, Ctrl, Alt or Shift).
To de-assign or delete a shortcut:
1.Click the shortcut you want to delete in the Current Keys list box.
2.Click the Remove button.
3.Click the Close button to confirm.
To reset all shortcut keys:
1.Click the Reset All button to reset all the shortcut keys to the state they were when the program was installed. A prompt appears stating that all toolbars and menus will be reset.
2.Click Yes to confirm the reset.
The following tables list the currently assigned keyboard shortcuts by key and by function, respectively.
Hotkeys by key
| Shortcut | Command name |
| --- | --- |
| F1 | Help |
| Delete | Delete |
| Shift+Delete | Cut |
| Ctrl+Insert | Copy |
| Shift+Insert | Paste |
| Ctrl+Down | Align Edges Bottom |
| Alt+Down | Line Up Vertically |
| Ctrl+Alt+Down | Space Evenly Vertically |
| Ctrl+Left | Align Edges Left |
| Ctrl+Right | Align Edges Right |
| Alt+Right | Line Up Horizontally |
| Ctrl+Alt+Right | Space Evenly Horizontally |
| Ctrl+Up | Align Edges Top |
| Ctrl+A | Select All |
| Ctrl+C | Copy |
| Ctrl+N | New |
| Ctrl+O | Open |
| Ctrl+P | Print |
| Ctrl+R | Correct Reference Paths |
| Ctrl+S | Save |
| Ctrl+V | Paste |
| Ctrl+X | Cut |
| Alt+G | Show Grid |
Hotkeys by function
| Command name | Shortcut | Alternative shortcut |
| --- | --- | --- |
| Align Edges Bottom | Ctrl+Down | |
| Align Edges Left | Ctrl+Left | |
| Align Edges Right | Ctrl+Right | |
| Align Edges Top | Ctrl+Up | |
| Copy | Ctrl+C | Ctrl+Insert |
| Correct Reference Paths | Ctrl+R | |
| Cut | Ctrl+X | Shift+Delete |
| Delete | Delete | |
| Help | F1 | |
| Line Up Horizontally | Alt+Right | |
| Line Up Vertically | Alt+Down | |
| New | Ctrl+N | |
| Open | Ctrl+O | |
| Paste | Ctrl+V | Shift+Insert |
| Print | Ctrl+P | |
| Save | Ctrl+S | |
| Select All | Ctrl+A | |
| Show Grid | Alt+G | |
| Space Evenly Horizontally | Ctrl+Alt+Right | |
| Space Evenly Vertically | Ctrl+Alt+Down | |