Viewing XML instance files
XML files that are inserted into a design are displayed as collapsed XML boxes.

The design of an XML box is basically identical to the design of a schema box. The box can be expanded and then shows three sub-sections. In the screenshot below, the arrowhead at the left of the Schema section indicates that this XML instance has an XML schema defined.

You can further expand the Schema and the Root sections of the XML box to see which XML schema and which namespaces are defined for the XML file.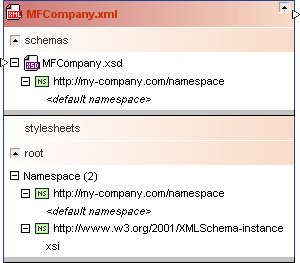 If the XML instance has also an XSLT stylesheet defined, you can expand the stylesheets section and view information on the XSLT file.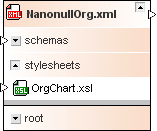 To view an XML file:
1.Drag-and-drop the XML file you want to view from the Explorer window onto a Design window or use the context menu to add the file to the current design.
2.Optionally, expand the sub-sections to view detailed information about schemas, stylesheets, or namespaces.