Altova website:

File compare tool
This chapter provides instructions on how compare two files with DiffDog. The information enclosed here is applicable to most file types. However, if you intend to compare Microsoft Word documents and XML schemas, see also the following sections:
•Comparing Microsoft Word Documents
| | |
| --- | --- |
| Note: | To compare ZIP-conformant files and Office Open XML (OOXML) files, run a directory comparison instead of a file comparison (since ZIP and OOXML files contain multiple files). Otherwise, if you attempt to compare ZIP-conformant files using a file comparison, DiffDog will prompt you to run a directory comparison instead. For more information, see Comparing Directories. |
A file comparison in DiffDog involves adding the files to the File Comparison window. The File Comparison window enables you to view file differences side by side. For step-by-step instructions, see Running a File Comparison.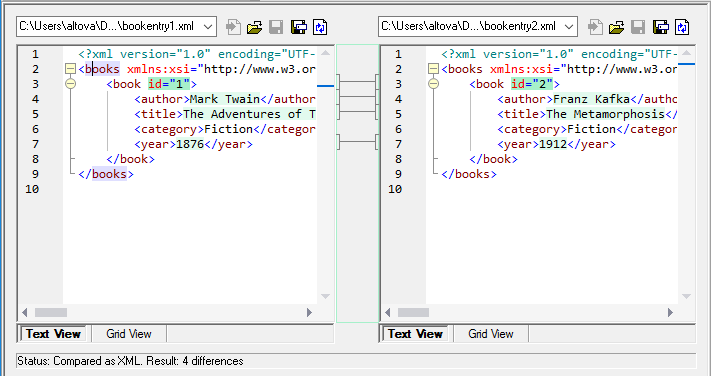 File Comparison window
As illustrated above, the File Comparison window consists of two panes called Text View and Grid View. The Text View is the default editor for most file types. It displays the content of the file, while offering multiple navigation aids, such as word wrapping, code folding, line numbering, syntax highlighting for numerous file types, as well as the ability to find and replace text or search by regular expressions. In case of XML files, the Text View offers even more capabilities, such as automatic highlighting of start and end tags, and pretty-printing. For more information, see Text View.
The Grid View is applicable to well-formed files, typically XML documents. It is particularly useful if you want to see the structure of the document at a glance, easily expand or collapse specific sections, or modify content in table-like manner, without accidentally changing the XML tags. For more information, see Grid View.
If necessary, you can edit files directly in either the Text View or the Grid View (see Editing Files). Changes can be saved back to the original file, or reverted (either using Undo, or by reloading the original file from the disk). For information about merging differences from one file to another, see Merging Differences.
If you are frequently comparing the same or similar sets of files, you can save the comparison as a file and open it at a later time (see Saving and Loading Comparisons).
Various comparison options can be customized (see Modifying the File Comparison Options).