The Word tab of the Comparison Options dialog box displays the options that are used for the comparison of Microsoft Word documents.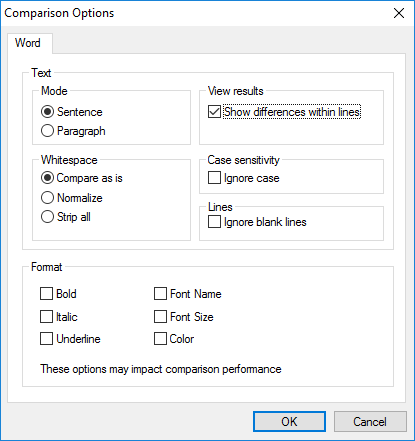 DiffDog can compare the documents either on sentence level or an paragraph level.
By activating the Show differences within lines check box, you can display the differences on character level.

If the check box is deactivated, differences are displayed only on sentence/paragraph level, that is, character level differences are not highlighted. Only the sentence/paragraph, as a whole, is indicated as being different.

See Comparison Options for Whitespace Characters.
Activate the Ignore case check box if upper and lower casing should be ignored when checking for differences.
Here you define whether blank lines should be ignored.
You can specify which type of formatting should be considered when comparing documents. If differences in formatting are found, the entire sentence that contains the difference is marked as not equal.