Running a Directory Synchronization
After you have configured the synchronization settings and, if applicable, any manual overrides, you can run a directory synchronization.
To run a directory synchronization:
1.Open a Directory Comparison window and run the comparison.
2.On the Diff and Merge menu, click Synchronize directories.
3.Choose either full synchronization or define detailed settings for different and missing files.
4.Optionally, override the synchronization actions for individual files or sub-directories.
5.Click Start. DiffDog displays a summary that lists actions that will be performed during the synchronization.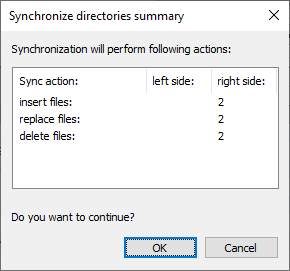 6.Click OK to commit the changes. If you choose not to run the synchronization and discard the synchronization settings, click Cancel to return to the Directory Comparison window.