By default, when you open three files for comparison, the one from the middle pane is treated as the "common ancestor", or base file (that is, the one into which you want to merge changes from two sources). Using the previous example, if you want to merge Bob's or Alice's version into the common ancestor file, then this file must be opened in the middle pane. This would enable you to merge changes from both the left and right panes into it.

However, it is also possible to swap the panes if necessary. For example, you may decide that you want to keep Alice's version. In this case, you can swap Alice's version with the base file (so that Alice's file is in the middle pane). This way, you can merge into Alice's file changes from both the base file and Bob's file. Swapping may also be necessary if you opened three files by right-clicking them in Windows Explorer.
To swap panes:
1.Click the Change Document Order

button on the 3-Way Comparison Toolbar. A dialog box appears.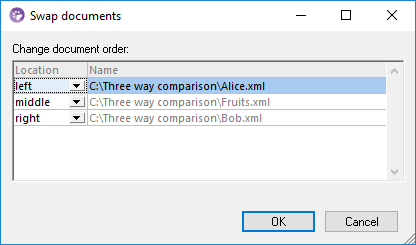 2.Select the desired target pane (middle, right, left) next to each file, and click OK.