Opening the Tutorial Project
The remainder of this tutorial uses a sample DatabaseSpy project to illustrate various database tasks. The sample project is available at the following path: C:\Users\<username>\Documents\Altova\DatabaseSpy2024\DatabaseSpyExamples\Tutorial\NanonullEnterprise.qprj. To open the sample project in DatabaseSpy, do one of the following:
•On the File menu, click Open | Open Project.
•Click the Open Project

button in the Project window.
•Double-click the project file in Windows Explorer, and close the database connection dialog box which appears.
The sample project contains a connection to a SQLite database which is by default inactive. To connect to the data source, right-click it in the Project window, and select Connect from the context menu.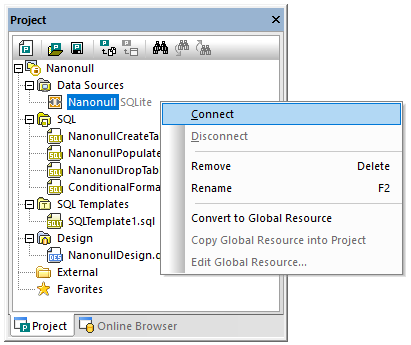 Project Window
Once you connect to the data source, the contents of the project can be viewed from the Project Window illustrated above, while the structure of the database can be viewed from the Online Browser. The Online Browser is by default available as a tab of the Project window, but it can also be undocked and pinned to another location if necessary, see also Arranging the Information Windows.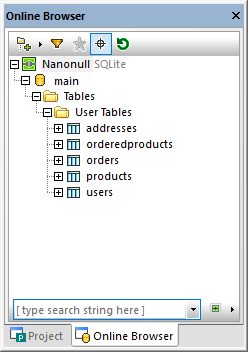 Online Browser
Note:

For Online Browser to be populated, an active (connected) data source must exist in your project. By default, disconnected data sources are not displayed in the Online Browser. If you want data sources to be displayed in Online Browser regardless of whether they are connected or not, first select the data source in the Project Window, and then select the

Always show in Online Browser

check box in the Properties Window.