Indexes are database objects that make queries of a database considerably faster; they are typically associated with one or more columns. In the Online Browser, indexes are displayed in the "Indexes" folder of a table. To view the index properties in detail, select an index and view the properties in the Properties window.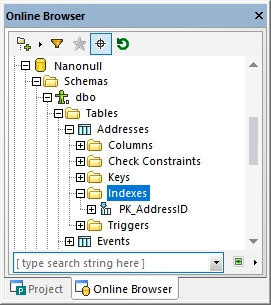 The type of an index is indicated by the following icons:
| | |
| --- | --- |
| | Non-clustered index |
| | Clustered index created by a primary key constraint |
| | Unique non-clustered index |
| | XML index (available only for columns of XML type) |
In the Design Editor, indexes are shown in the "Index" section of the table design. Here you see at a glance which columns are included in the index definition, and whether they will be queried in ascending or descending order. Indexes generated automatically are shown as grayed out and cannot be modified.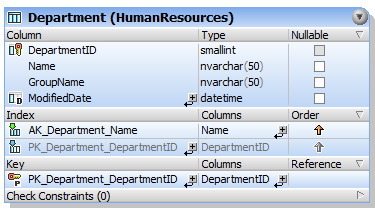 Table indexes in Design Editor