The Result View section of the Options dialog box lets you configure aspects of the appearance of the Result window in the SQL Editor.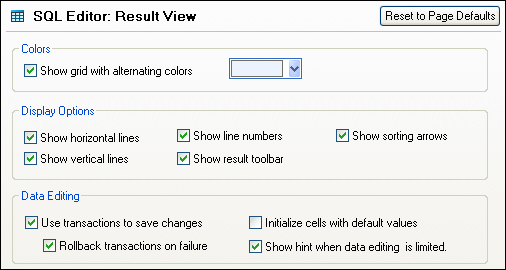 Colors
You can have rows in Result tabs displayed as simple grid or with alternating white and colored rows. The color can be changed using the color chooser beside the check box.
Display Options
By default, horizontal and vertical grid lines as well as line numbers and the Result toolbar are displayed. You can switch any of these options off by deactivating the respective check box.
DatabaseSpy allows you to sort data contained in the result grid either ascending or descending by repeatedly clicking the column headers. To enable this option, activate the Show sorting arrows check box.
Data Editing
When the default setting is applied, DatabaseSpy uses transactions to save changes in the result grid and rolls back these changes if a failure occurs during committing the changes to the database. Any editing is then written into a transaction which is executed as a whole. If the Rollback transactions on failure check box is selected, all changes contained are undone upon failure of a single update statement in the transaction.
| | |
| --- | --- |
| Note: | Transactions are not supported by MS Access databases. |
If default values are defined for the individual database fields, DatabaseSpy can automatically insert these values when creating a new line in the result grid. Clear the Initialize cells with default values check box if you want to create empty lines.
When data editing is not possible to the full extent, DatabaseSpy shows a warning message before the data is displayed in the Result window. You can suppress this hint by clearing the Show hint when data editing is limited check box.