The Message window provides a statistical overview on the SQL statements that have been executed in the SQL Editor and reports errors that might have occurred during execution. The "Summary" statistic displays the total count of errors, warnings, or info messages, as applicable.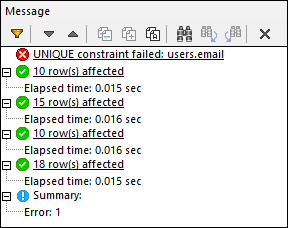 Underlined parts in the Message window are hyperlinks which enable you to jump to a certain part of the SQL script in the SQL Editor, or to the corresponding Result window that holds the result of the respective SQL statement.

The commands and status icons available in this window are identical with those in the Output Window.