With DatabaseSpy, you can export database data to XML, CSV, HTML, and Excel formats. You can export either selected tables or the result of custom SELECT statements. The instructions below show you how to export data from selected database tables, as XML.
To export table data to XML:
1.Click the Export

toolbar button. A dialog box opens.
2.Click the XML button on the left side of the dialog box.
3.Make sure that the Source option is set to Table.
4.Browse the database structure and select the tables that are to be exported (in this example, tblAnimalCategories). You can optionally limit the amount of displayed data by using filtering tools such as Filters

, Favorites

, or Object Locator

. To hide objects not selected for export, select the Show checked objects only

check box. To preview the table before exporting it, first select one of the tables to be exported, and then click the Preview button.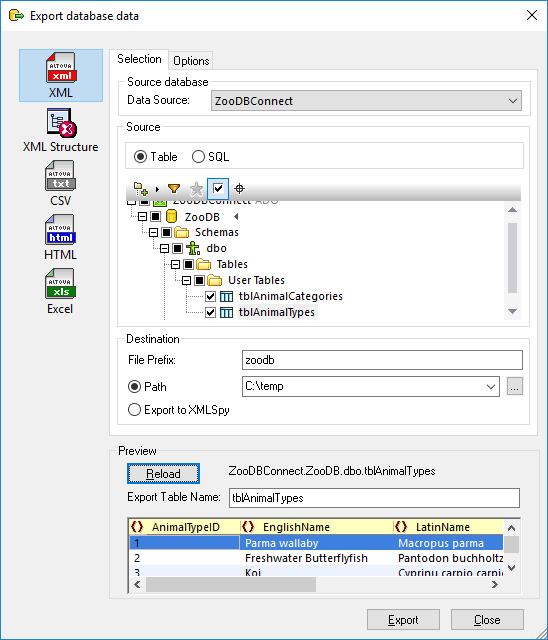 5.Under File Prefix, enter a prefix to be added to the exported files (in this example, the prefix is "zoodb").
6.Next to Path, enter the path to a destination directory.
7.Click Export. A separate XML file for each of the selected tables is created in the specified directory.
By default, the XML file includes comments that describe the structure of the source table. You can change this, as well as other options, from the Options tab of the dialog box illustrated above.

For information about other options and target formats when exporting data from a database, see Exporting Database Data.