The Properties window displays the properties of any selected object in the graphical user interface of DatabaseSpy. For a better overview, each element is assigned a particular color in the properties title bar. You can change these colors in the Design Editor options. If no object is selected, the properties of the editor window itself will be displayed.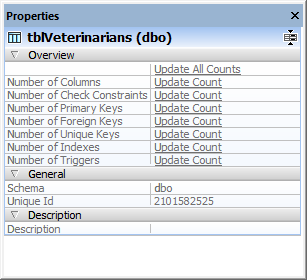 Properties window
You can customize the appearance of the Properties window by clicking one of the following buttons at the right edge of the header line:
| | | |
| --- | --- | --- |
| | Hide empty properties | Hides all lines where no entry appears. |
| | Show empty properties | Restores all lines and displays also empty properties. |
For performance reasons, information about child objects of an element is loaded only on demand, that is, if that particular element is expanded in the Online Browser or displayed in the Design Editor. To explicitly request information about an object, click the appropriate Update Count field in the object properties.
Some properties may have informative tooltips associated with them. To display the tooltip (if available), hover over the respective property. For more information, see Properties.