The File Types section of the Options dialog box allows you to customize the behavior of DatabaseSpy on a per-file-type basis.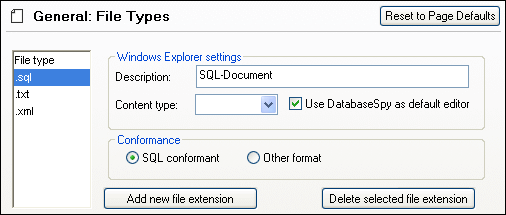 Windows Explorer settings
You can define the file type description and MIME-compliant content type used by Windows Explorer and whether DatabaseSpy is to be the default editor for documents of this file type.
Conformance
DatabaseSpy provides specific editing and other features for various file types. The features for a file type are set by specifying the conformance in this option. DatabaseSpy lets you set file type to conform with SQL and other (text) grammars. A large number of file types is defined with a default conformance that is appropriate for the file type. We recommend that you do not modify these settings unless you are adding a new file type or deliberately wish to set a file type to another kind of conformance.
Add new file extension
Adds a new file type to the File types list. You must then define the settings for this new file type using the other options in this section.
Delete selected file extension
Deletes the currently selected file type and all its associated settings.