Adding Objects as Favorites
Some of the tables in the zoo database need to be queried more often than others. For example, tblMedicalTreatments needs to be updated whenever a veterinarian visits. Adding such tables as favorites provides you with quick access to these tables.
To add tables as favorites:
1.Open the "ZooDB" project created previously and double-click the

ZooDBConnect data source to connect to it.
2.In the Online Browser, right-click table tblAnimalFeed and select Add to/Remove from Favorites from the context menu. Alternatively, click the

icon next to the table, or select the table and press Ctrl+F2.
To remove the object from favorites, use the same actions as for adding.
Tables that have been added as favorites are shown in bold in the Online Browser.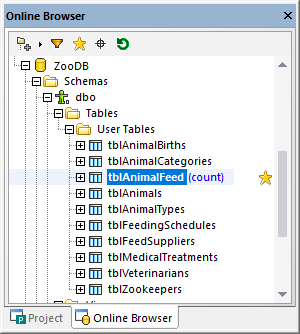 To switch to the "Favorites" view, click Show Favorites

at the top of the Online Browser. Now, only favorite items are shown in the Online Browser.