In addition to the Properties window, you can show the properties of a column, an index, a key, or a check constraint directly in a Design Editor window. Design Editor's table display shows the data type and the Nullable check box for columns, the column and order for indexes, the column and referenced key for keys, and the expression for check constraints.
When you select an index, key, or check constraint in the table display in the Design Editor, the referenced column is automatically printed in bold.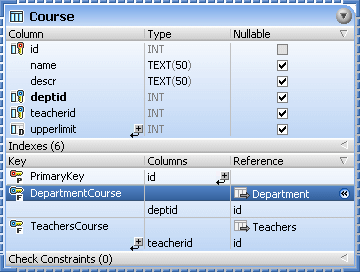 When you click into an empty area of a Design Editor window, the design properties are displayed in the Properties window. Here you can change the data source or schema and view the file properties and path of the design file.
Overview
| | |
| --- | --- |
| File Kind | Always reads "Design" for design files (*.qdes). |
General
Database Kind

For unsaved SQL Editor windows, this drop-down list lets you define a database type. Note that this field will be adapted automatically if you choose a data source.

Data Source

Here you can choose from the data sources that have been added to the project. As several data sources may be active at one time, it is necessary to be able to assign data sources to SQL files as a group or individually.

Note: Assignments made in the Project tab apply to the SQL files when they are opened or executed.

Root Object

Displays the root object of the current connection. This is relevant only for those database kinds that support a single database as the root object.
Description
| | |
| --- | --- |
| Description | Here you can enter a description of the file. |
Files
Creation Date

Modification Date

Access Date

Displays the respective creation and modification dates and shows when the file has last been accessed.

Size

Shows the file size.

Read Only

Hidden

These properties are read-only and can only be changed outside DatabaseSpy.

Full Path

Displays the full path to the file. To jump directly to this location, right-click the file in the Project window and select Locate File... from the context menu.
| | |
| --- | --- |
| Note: | The connection properties can be changed only for new designs. As soon as you show a table in a Design Editor window, the connection properties cannot be changed anymore. |
To view the properties of a design file:
Do one of the following:
•Click into an empty area of a Design Editor window.
•If the design file has already been added to the project, click the .qdes file in the Design folder of the Project window.
The properties of the design are displayed in the Properties window.