The Overview window serves as a navigator for large design files that occupy more space than is available in the Design Editor window. The Overview window shows the currently displayed area in the design and you can move the focus by clicking into the rectangle and moving it to the desired location in the design file.
To display the Overview window:
•On the View menu, click Overview Window.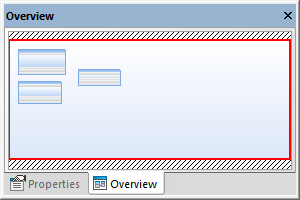 Overview window
Like other DatabaseSpy windows, the Overview window can be undocked and dragged to any position within the application, see Arranging the Information Windows.