When an MFD file is concerned, solid connector lines lead from the input and output handles of the MFD file to the title bars of the respective source and target schema boxes or any existing XML instances, respectively. If the MFD file is expanded, the connector lines point to the schemas contained in the Input and Output section of the MFD file. You can further expand each schema to display XML instances contained in the Instances section.

SchemaAgent uses different colors to indicate relations between MFD files and schemas (default color: blue) or XML instances (default color: green).
Relations between MFD files and WSDL files are illustrated with magenta connector lines between the title bar of an WSDL box to the title bar of a MFD box when the MFD box is collapsed, or to the Inputs and Outputs sections, respectively, within an MFD box when the MFD box is expanded.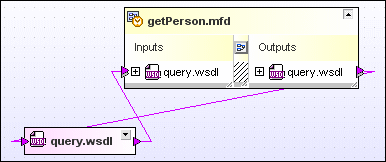 Toggling the input and output instances
When you drag XML instances onto an XML schema inside an MFD box, normally the first XML instance is considered the input, and the second XML instance is considered the output. You can change that default allocation using the Toggle instances option in the context menu.
To toggle input and output instances:
1.Expand the MFD box to see the XML instances.
2.Right-click the parent XML schema, the Instances node, or either of the XML instances and choose Toggle instances from the context menu.