The Context template returns XBRL context elements in the instance file (see listing below).
<xbrli:context id="FY06">
<xbrli:entity>
<xbrli:identifier scheme="https://www.altova.com/XBRL/DocEx1/Ex1.htm">00058</xbrli:identifier>
</xbrli:entity>
<xbrli:period>
<xbrli:startDate>2006-01-01</xbrli:startDate>
<xbrli:endDate>2006-12-31</xbrli:endDate>
</xbrli:period>
</xbrli:context>
When the Context template is inserted in the design, it is created as an empty template. You must therefore insert a contents placeholder in the design if you wish to output the contents of the element.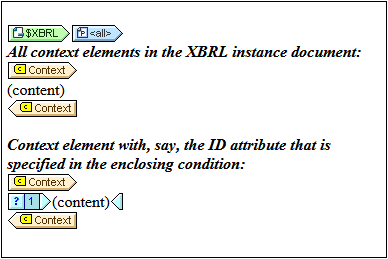 Note the following points:
•The location where the context template is inserted is significant. So you must ensure that you understand the hierarchical context within which the XBRL context node is inserted.
•The template returns all context elements at the hierarchical level at which the template is inserted.
•Within a Context template a particular context element in the instance file can be selected by creating a condition around the contents placeholder. This could be done, for instance by specifying the value of the id attribute of a context element (see screenshot above).