One of the core uses of the SPS you create with StyleVision is to control the input of data and the display of an XML document in Authentic View (a graphical XML-document-editor available in the Altova products XMLSpy, Authentic Desktop, Authentic Browser, and StyleVision), which is a document view available in Altova products. With Authentic View, users who are unfamiliar with XML can easily enter and edit XML document content correctly.
A document creation and editing process that involves Authentic View consists of two separate stages:
•Document design. The Authentic View of the XML document, which is graphical view, is designed in StyleVision. The design document is an SPS. The SPS not only processes the XML document for display in Authentic View and for final output; it also provides mechanisms, in Authentic View, for inputting data into the XML file or DB.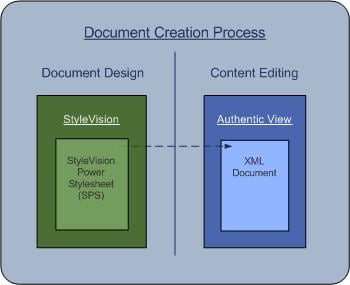 •Content editing. This SPS created in the document design stage is linked to the XML document to be edited. (The XML document must be valid according to the schema on which the SPS is based.) An XML document which is linked to an SPS is presented graphically in the Authentic View of an Altova product as the Authentic View of that XML document. When a new Authentic XML document is created, it can be assigned an SPS and then be edited in Authentic View using the document template (Template XML File) and controls specified in the SPS. If an existing XML document is opened and assigned an SPS, the existing data is displayed in Authentic View according to the design in the SPS, and the document can be edited in Authentic View.
The user of Authentic View is not expected to be knowledgeable about either XML or the schema being used for the document. The document display in Authentic View should make content editing as easy and non-technical as possible. It is, therefore, the task of the person who designs the SPS to produce a user-friendly Authentic View display. For detailed information about using Authentic View, see the Authentic View documentation in the user manual of XMLSpy or Authentic Desktop.
SPSs for standard industry schemas
Altova's Authentic View package includes SPSs for a number of standard industry schemas. Users can therefore immediately create an XML document based on a standard schema in Authentic View. The screenshot below shows a partial Authentic View of the NCA Invoice standard.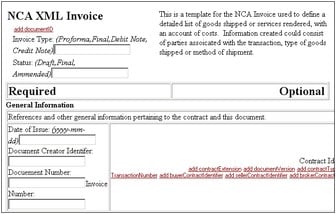 You can easily customize any of the supplied standard industry SPSs, which are available in the Examples/IndustryStandards folder of your application folder.