The Processing Activities report contains information about processing activities described in the system. The report can be filtered according to the following criteria:
•Descriptions of data classifications (defined in the data categories of the processing activities) can be shown or not.
•The report will cover the processing activities of all companies stored in the compliance database. To restrict the report to a selected set of companies, select the Restrict report check box and then select the companies you want to include in the report. Select a company role (data controller or data processor) to further filter the contents of the report. The option to select companies becomes available only when the Restrict option's check box is selected (see screenshot below).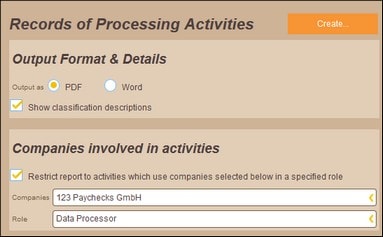 To generate the report, select the report format (PDF or Word; see screenshot above), and click Create. Downloading the report opens the PDF in a browser, or the Word file (.docx format) in an application of your choice.