A data processor is an agent that processes personal data for the data controller, typically to provide a service. Data processors are listed and managed on the Data Processors page (screenshot below). Here, new data processors can be added (click New Data Processor), and information about existing data processors can be edited (click the Edit icon of a data processor). Both actions open the definition page of the relevant data processor (respectively, a new data processor or an existing one); see below. To delete a data processor, click its Delete icon.

Note:

If a data processor buys the data it processes, or in some other way becomes responsible for it, then it is a data controller and is responsible for the protection of that data. This role (data controller or data processor) is selected for a data processor when the data processor is selected in the

definition of a processing activity.
Edit data processor
The definition page of a data processor (screenshot below) consists of two panes: (i) a pane in which you enter and edit information about the data processor; (ii) a pane that lists the processing activities the data processor uses (this association is created in the definition of the respective processing activities).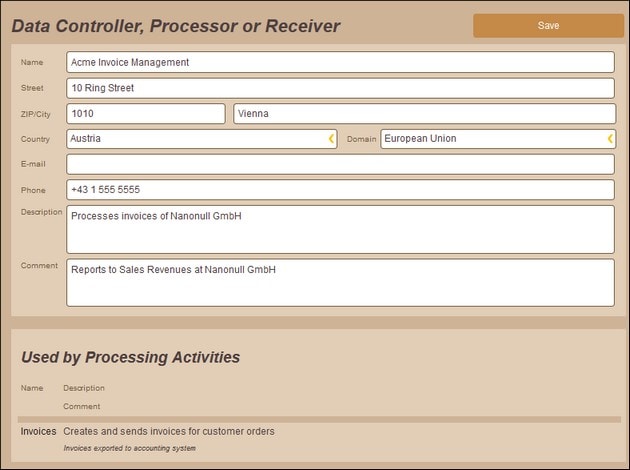 After you finish editing information about a data processor, click Save to save the changes.
Relationships with other metadata
A data processor has the following relationships with other metadata:
| | |
| --- | --- |
| It can be selected for... | Which sets up... |
| | Which data processors use the processing activity, and the role (controller or processor) in which a data processor acts. Once a data processor is selected for a processing activity, the processing activity appears reflexively as part of the information about the data processor (see lower pane in screenshot above). |