Discussions about a Single Metadata Item
Discussions about a single metadata item are available for the following metadata items. The table lists the respective pages from which the discussions about that metadata item can be accessed.
| | |
| --- | --- |
| Metadata item | Accessed from page defining that specific... |
| Company (Data controller) | |
| Individual department | |
| Individual person | |
| Individual data classification | |
| Individual data usage classification | |
| Individual data processor | |
| Individual data category | |
| Individual data storage entity | |
| Individual processing activity | |
| Individual approval request | |
On clicking the Discussions link on the definition page of a metadata item, the discussion threads are displayed in a frame that looks something like this: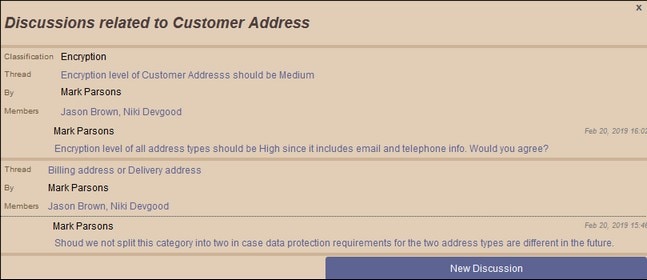 The screenshot above shows two discussion threads of the data category Customer Address. Note that this is one specific data category. Both threads have been initiated by Mark Parsons; see screenshot. In both cases, the discussion participants (in addition to the initiator) are Jason Brown and Niki Devgood. Each thread currently has a single message (in both cases sent by Mark Parsons).
To close a frame, click the frame's Close button (located at top right; see screenshot above).
For information about what a discussion participant can do, see the section Available Functionality.