Discussions about All Items of a Metadata Type
Discussions in the compliance database can also be viewed as a group of threads, with the grouping being according to metadata type; an example of a metadata type is a processing activity. This is useful if you wish to have an overview of discussions about all threads of all items of a metadata type. For example, you can view a list of all threads relating to all departments or all processing activities (which are examples of metadata types). The table below lists the available groups and the respective pages from which each group of discussions is accessed.
| | |
| --- | --- |
| Discussions about... | Accessed from page... |
| All discussions | |
| All departments | |
| All persons | |
| All data classifications | |
| All data usage classifications | |
| All data processor | |
| All data categories | |
| All data storage entities | |
| All processing activities | |
| All approval requests | |
On clicking the Discussions link on any of the pages listed above, the discussions are displayed in a frame that looks something like this: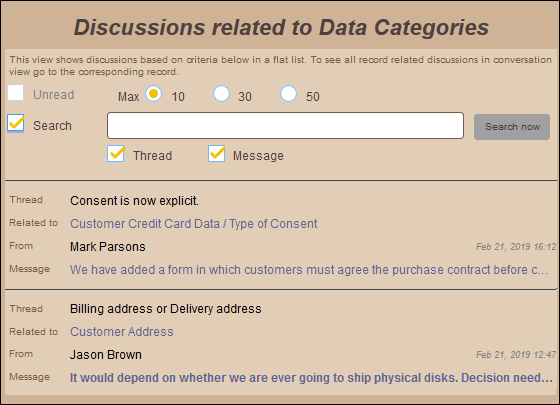 The screenshot above shows discussions related to all data categories. In it, there are two discussion threads, for two different data categories: (i) Customer Credit Card Data, and (ii) Customer Address. For each thread, the latest message is displayed. Unread messages are displayed in bold.
The frame has the following filters:
•Unread: Check this option to filter threads, all messages of which have been read. Only threads with at least one unread message will be displayed.
•Max: Select the maximum number of discussions to display, starting with the newest.
•Search: Enter the text string to search for, either in the text of thread headers or in the text of messages. Searches are case-insensitive.
A discussion participant can do the following:
•Click the data category (in the Related to field) to go to the definition page of that data category.
•Click a thread's latest message to go to the thread. Inside the thread, you can do the following:
oClick a message to read the full message.
oIf a message has been sent by another participant, click the message to reply to it. You can also mark the message as unread.
oIf a message has been sent by you, click it to add another message. If there has been no reply to the message, you can edit the message or delete it.
To close a frame, click the frame's Close button (located at top right).
For more information about what a discussion participant can do, see the section Available Functionality.