The Go to line/char

( Ctrl+G ) feature is available in File Comparison windows only, and enables you to go to a particular location in the active document using line and character coordinates. The command pops up the Go to text line/character dialog (screenshot below).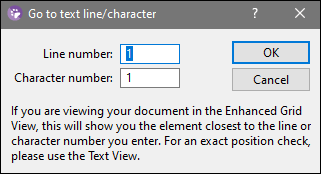 Enter the required line and character numbers in the respective text boxes, and click OK. This positions the cursor at the specified location.
Note:

In Grid View, the

Go to line/char

feature highlights the grid cell closest to the line or character number you enter.