In the Application tab of the DiffDog Options dialog box, you define the startup options of the application.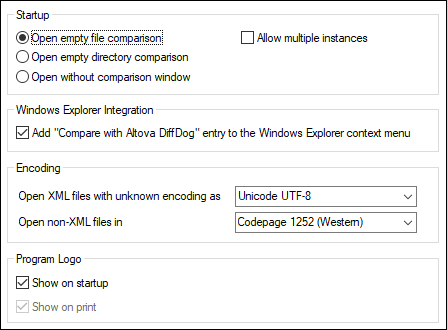 Startup
Three radio buttons are available to define whether DiffDog starts up with an empty File Comparison window, an empty Directory Comparison window, or no comparison window.
If the Allow multiple instances check box is deactivated, starting DiffDog when an instance of DiffDog is already running causes a new comparison window (file, directory, or empty) to open in the already running instance of DiffDog.
Windows Explorer Integration
If the Add "Compare with Altova DiffDog" entry to the Windows Explorer context menu check box is selected, you can start a file or directory comparison directly from Windows Explorer by selecting the respective files or directories and choosing Compare with Altova DiffDog from the context menu.
Encoding
You can select the encoding with which to open an XML file or non-XML files, respectively, where the encoding cannot be detected.
Program logo
The Show on startup option—if checked—displays the splash screen (logo) when DiffDog starts. The Show on print option is read-only; it prints the program logo when a comparison result is printed.