The Commands tab allows you customize your menus or toolbars.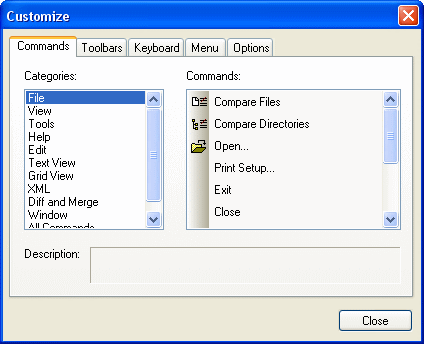 To add a command to a toolbar or menu:
1.Select the menu option Tools | Customize. The Customize dialog box appears.
2.Select the All Commands category in the Categories list box. The available commands appear in the Commands list box.
3.Click on a command in the Commands list box and drag it to an existing menu or toolbar. An I-beam appears when you place the cursor over a valid position to drop the command.
4.Release the mouse button at the position you want to insert the command.
•A small button appears at the tip of mouse pointer when you drag a command. The "x" below the pointer means that the command cannot be dropped at the current cursor position.
•The "x" disappears whenever you can drop the command (over a tool bar or menu).
•Placing the cursor over a menu when dragging opens it, allowing you to insert the command anywhere in the menu.
•Commands can be placed in menus or toolbars. If you created you own toolbar you can populate it with your own commands/icons.
Note:

You can also edit the commands in the context menus

(right-click anywhere to open the context menu), using the same method. Click the Menu tab and then select the specific context menu available in the Context Menus combo box.