The Keyboard tab allows you to define (or change) keyboard shortcuts for any DiffDog command.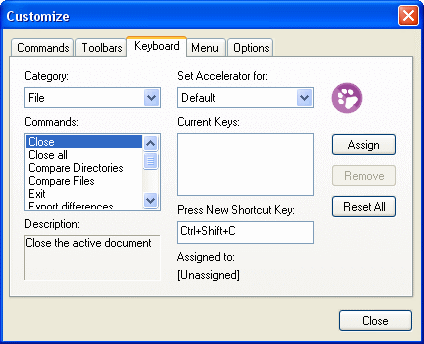 To assign a new Shortcut to a command:
1.Select a command menu from the Category list, for example, "File". (Alternatively, select All Commands to view commands from all menus).
2.Select the command to which you want to assign a new shortcut from the Commands list.
3.Click in the Press New Shortcut Key text box, and press the shortcut keys that are to activate the command. The shortcuts appear immediately in the text box. If the shortcut was assigned previously, then that function is displayed below the text box. (To clear this text box, press any of the control keys, CTRL, ALT or SHIFT).
4.Click Assign. The shortcut now appears in the Current Keys list box.
Note: The only supported value in the Set Accelerator for drop-down list is Default.
To de-assign or delete a shortcut:
1.In the Current Keys list, click the shortcut you want to delete.
2.Click Remove.
3.Click Close to confirm.
To reset all shortcut keys:
1.Click the Reset All button to reset all the shortcut keys to the state they were when the program was installed. A message box appears stating that all keyboard assignments will be reset.
2.Click Yes to confirm the reset.
Currently assigned keyboard shortcuts
| Hotkeys by key | |
| --- | --- |
| Ctrl+C | Copy |
| Ctrl+F | Find |
| Ctrl+G | Go to Line/Char |
| Ctrl+H | Replace |
| Ctrl+O | Open |
| Ctrl+P | Print |
| Ctrl+S | Save |
| Ctrl+V | Paste |
| Ctrl+X | Cut |
| Ctrl+Z | Undo |
| F1 | Table Of Contents |
| F3 | Find Next |
| F5 | Start Comparison |
| F7 | Check Well-Formedness |
| F8 | Validate |
| Alt+Enter | Make Current Difference |
| Ctrl+Enter | Display Current Difference |
| Delete | Delete |
| Shift+Delete | Cut |
| Alt+Backspace | Undo |
| Ctrl+Insert | Copy |
| Shift+Insert | Paste |
| Alt+Down | Next Difference |
| Alt+Up | Previous Difference |
| Alt+Home | First Difference |
| Alt+End | Last Difference |
| Alt+Left | Copy from Right to Left |
| Alt+Right | Copy from Left to Right |
| Hotkeys by function | | |
| --- | --- | --- |
| Check Well-Formedness | F7 | |
| Copy | Ctrl+C | Ctrl+Insert |
| Copy from Left to Right | Alt+Right | |
| Copy from Right to Left | Alt+Left | |
| Cut | Ctrl+X | Shift+Delete |
| Delete | Delete | |
| Display Current Difference | Ctrl+Enter | |
| Find | Ctrl+F | |
| Find Next | F3 | |
| First Difference | Alt+Home | |
| Go to Line/Char | Ctrl+G | |
| Last Difference | Alt+End | |
| Make Current Difference | Alt+Enter | |
| Next Difference | Alt+Down | |
| Open | Ctrl+O | |
| Paste | Ctrl+V | Shift+Insert |
| Previous Difference | Alt+Up | |
| Print | Ctrl+P | |
| Replace | Ctrl+H | |
| Save | Ctrl+S | |
| Start Comparison | F5 | |
| Table Of Contents | F1 | |
| Undo | Ctrl+Z | Alt+Backspace |
| Validate | F8 | |