In the File types tab, you can set the default comparison mode of various file types. File types are identified by their extension (.asp, .biz, etc.), and the comparison mode can be XML, text, binary, ZIP-conformant, or Microsoft Word.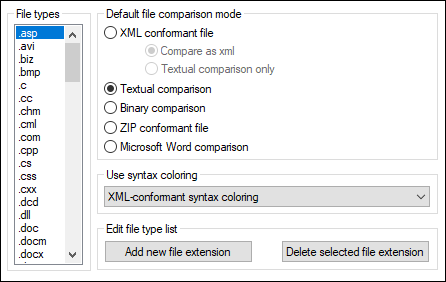 File types
This pane is used to select the file extension for which the options in the group boxes Default file comparison mode and Use syntax coloring are defined. Please note that any changes that you make in these two group boxes only apply to the file type currently selected in the File Types pane.
Default file comparison mode
To assign a default comparison mode for a particular file type, in the Default file comparison mode group box, choose one of the following radio buttons:
•XML-conformant file
An instance of that file type is checked for XML conformance, and is treated as an XML file if it is conformant. An XML-conformant file may be compared as XML or text.
•Textual comparison
•Binary comparison
An instance of that file type is considered as binary file. A byte-by-byte comparison is used in directory comparison. Files of this type will not be displayed in text view.
•ZIP-conformant file
An instance of that file type is considered as a sub-directory in directory comparison. In file comparison, files of this type are compared as binaries.
•Microsoft Word comparison (Enterprise Edition)
An instance of that file is considered as Microsoft Word document and can be compared in a Microsoft Word comparison.
The comparison mode can be overridden for individual file comparisons by selecting the desired comparison mode in the Diff and Merge menu. DiffDog detects binary files automatically.
Use syntax coloring
You can choose from among the following options for syntax coloring:
•No syntax coloring
•XML-conformant syntax coloring
•Source code-conformant syntax coloring
Edit file type list
To add a new file type to the list in the File types pane, click the Add New File Extension button. To delete a file type from the list, select the file extension in the list and then click the Delete Selected File Extension button.