Running a Directory Comparison
When the two directories to be compared are loaded into the Directory Comparison window, a comparison is automatically carried out if the Autostart Comparison command is toggled on (which is the default setting) or if you have selected directories in Windows Explorer and used the Compare with Altova DiffDog context menu command. In addition, comparisons can be explicitly started any number of times with the Start Comparison command.
If you double-click a file in the Directory Comparison window, this file and the corresponding file in the compared directory are opened in a new File Comparison window and compared immediately.
Filtering the content of compared directories
The Directory content toolbar contains a drop-down list from which you can select a filter to be applied to the Directory Comparison window. You can change this filter at any time prior to or after a comparison, or change the definition of a filter as well as add a new filter.
To run a filtered directory comparison:
Do one of the following:
•When selecting directories for comparison using the File | Open menu option, select a filter from the File/Directory filter drop-down list in the Open Comparison dialog box.

•If you have already opened a Directory Comparison window, select a filter from the drop-down list that is available in the Directory content toolbar.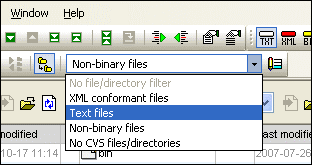 The content in the Directory Comparison window is updated and a comparison is started immediately.