The Online Browser displays all the database objects of the database you are connected to. The structure of folders and database objects displayed in the Online Browser may slightly vary depending on the database kind you are connected to.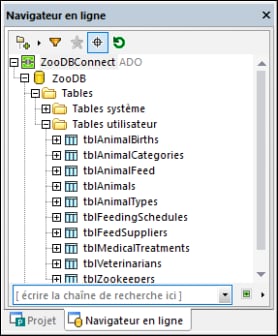 Online Browser
The Online Browser serves as a starting point for most of the database actions in DatabaseSpy: retrieve or edit data, create SQL statements, show database items in the Design Editor, export database data, or show the row count for tables. All these actions can be started from the Online Browser with a few mouse clicks, as further described in this documentation.
Note:

For Online Browser to be populated, an active (connected) data source must exist in your project. By default, disconnected data sources are not displayed in the Online Browser. If you want data sources to be displayed in Online Browser regardless of whether they are connected or not, first select the data source in the Project Window, and then select the

Always show in Online Browser

check box in the Properties Window.
The Online Browser window provides the following commands: