The Favorites window displays any modeling elements or diagrams that you have added as favorites. "Favorites" represent a personal, custom-picked list of modeling elements or diagrams that you can use for quick access, for example.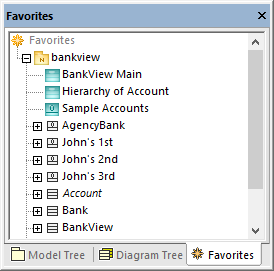 Favorites window
By default, the contents of the Favorites window are automatically saved when you save the project. You can change this option from the Tools | Options menu, File tab. The relevant option name is Load and save with project file | Favorites.
Items in the Favorites window are not copies or clones; they represent the actual elements or diagrams. Most actions that you take in the Model Tree window are also applicable in the Favorites window, including adding or deleting elements. For more information, see the How to Model... chapter.