Enabling Git Source Control with GIT SCC Plug-in
To enable Git source control with UModel, the third-party PushOK GIT SCC plug-in must be installed, registered, and selected as source control provider, as follows:
1.Download the plug-in installation file from the publisher's website (http://www.pushok.com), run it, and follow the installation steps.
2.On the Project menu of UModel, click Change Source Control, and make sure PushOk GITSCC is selected as source control provider. If you do not see Push Ok GITSCC in the list of providers, it is likely that the installation of the plug-in was not successful. In this case, check the publisher's documentation for a solution.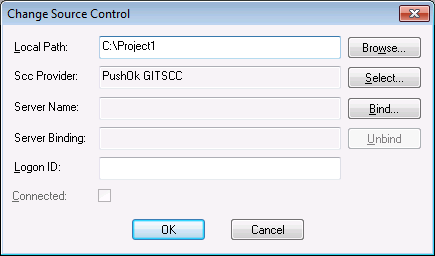 3.When a dialog box prompts you to register the plug-in, click Registration and follow the wizard steps to complete the registration process.