The main page of the Design Editor options defines the visual appearance and general behaviour of the editor. Additional Design Editor-related settings are defined in the Element Colors and Fonts options.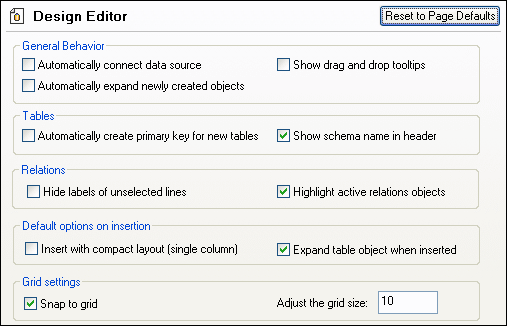 General Behavior
If you have several data sources defined in your project but not all are active, you can automatically connect to the related data source when you open a design file in Design Editor. A prompt asking you if you want to connect will appear if this option is not activated.
DatabaseSpy can display tooltips when database objects are dragged from the Online Browser or from different table designs into the Columns or Keys section of a table design.
When creating new database objects, you can automatically display the properties box in the Design Editor so as to fine-tune the definition of the objects without having to change to the properties window. For this purpose, select the Automatically expand newly created objects check box.
Tables
When new tables are created in the Design Editor, DatabaseSpy can automatically create primary keys for them. The first column of a new table is then renamed to "id" and a primary key constraint is added to the Keys section.
You can have the schema name displayed in parentheses in the title bar of a table.
Relations
By default, all connection lines between related tables are labeled in Design Editor. You can, however, hide the labels of unselected lines by selecting the respective check box. Highlighting active relations objects will gray out tables that do not form part of a relation when you click on the line that connects related tables.
Default options on insertion
The default table layout can be set to compact and/or expanded, see Viewing Tables as a Diagram. In the compact layout only the column names of a table are visible (select the Insert with compact layout (single column) check box to switch to compact layout). If the Expand table object when inserted check box is not checked, only the title bar of a table will be displayed.
Grid Settings
Adjust the grid size according to your needs and specify whether or not database objects in the Design Editor should snap to grid.